Who'll pay for a Pixel?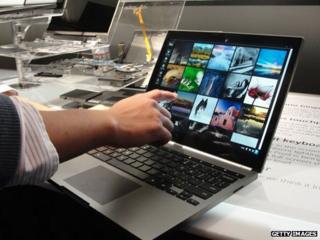 It's the best-looking and most useful device ever designed and manufactured by Google. Then again the Chromebook Pixel is also the first piece of hardware that Google has ever produced under its own steam.
It is a very lovely machine - but after trying one out for a few hours I'm bemused as to who would really pay £1049 for a laptop which has some serious limitations.
The Pixel, which Google says has the best screen with the highest pixel density of any on the market, is a great showcase for the search company's Chrome OS.
And a light, touchscreen laptop which leaps into action the moment you open it might perhaps provide competition for Apple's MacBook Air or any of the Windows Ultrabooks.
It also comes with huge amounts of cloud storage - a terabyte for three years - which Google says would cost you $1,800 alone, making the Pixel a bargain.
But then you have to consider the limitations of the Chrome OS - it's great if your life is in the "Cloud" and you want an always-online machine whose main function is email, web surfing and social media, but limited if you want to use other applications.
If you want to make a movie using a high-end video editing application,or play online games, then you will not find the Pixel much use.
Granted - many people won't need those capabilities, but then they would probably be happy with a tablet computer for half the price.
For more than £1000 most of us might expect an all-purpose machine, so it is hard to see this flying off the shelves.
But maybe that is not the point for a company that has so much money it can afford to have a few hobby products.
The process of designing and manufacturing the Pixel will have taught Google a lot about the hardware business - and with products like Google Glass on the horizon, that knowledge could prove very useful.