Hacking group Anonymous latest victim of Twitter hack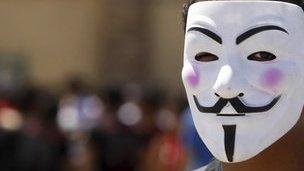 Hacker collective Anonymous has suffered an embarrassing breach, as one of its popular Twitter feeds is taken over by rival hacktivists.
Little-known group Rustle League said it had hacked the @Anon_Central account which has 160,000 followers.
It follows some high-profile Twitter hacks in recent days - including accounts for Burger King, Jeep and BBC Top Gear presenter Jeremy Clarkson.
Experts warn that users need to strengthen their passwords.
"The reason Anonymous fell victim is probably human weakness," said Graham Cluley, senior consultant at security firm Sophos.
"Chances are that they followed poor password practices, like using the same password in multiple places or choosing a password that was easy to crack.
Everyone should learn better password security from incidents like this - if it can happen to an account run by Anonymous supporters, it could happen to you," he said.
On Monday, the account for Burger King was breached and on Tuesday that of Chrysler-owned Jeep was broken into.
One message on the Burger King account claimed that the company had been sold to McDonalds while the Jeep account tweeted about rival cars.
Meanwhile, BBC presenter Jeremy Clarkson's account was hacked by spammers advertising weight-loss tablets.
Twitter has told its account holders that they need to be smarter with their passwords.
In a blog post published on Tuesday, Bob Lord, director of Information Security, said: "Over the past couple of days, there's been a fair amount of conversation about account security on Twitter,"
He urged users to have strong passwords. "Your password should be at least 10 characters that include upper and lower case characters, numbers and symbols," he said.
The Anonymous hack on Thursday morning was short-lived. Three hours later, those running the feed tweeted that they had gained back control of their account.
As well as raising issues about password security on Twitter, the incident also raises questions about the status of Anonymous.
The hacktivist group was rarely out of the headlines in 2012.
But in a recent report, security firm McAfee suggested that Anonymous could fall into decline this year.
"Many are starting to prefer making a profit over a political point, not only through carrying out actions themselves but also offering a hacking-as-a-service to those less technically able."," said Raj Samani, McAfee's chief technical officer for Europe, Middle East and Africa.
"The authorities have launched a crackdown on Anonymous and quite a number of its key members have been arrested," he added.
Much of the focus on cyber crime has shifted this week to the extent and scale of Chinese hacking.
Published by US security firm Mandiant, the report names three hackers believed to be working for the Chinese military.
Mandiant got the information from rootkit.com, an online forum where hackers share information about techniques.
In 2011, Anonymous gained access to the website and published personal data of more than 40,000 registered users online.