Megaupload sequel Mega to accept bitcoin currency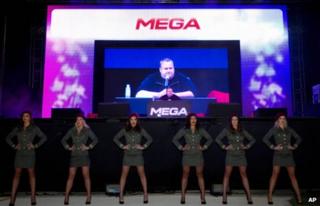 Web storage service Mega will now accept the virtual currency bitcoin, according to its founder Kim Dotcom.
The site is the sequel to his site Megaupload, shut down a year ago at the urging of the US government.
Mega follows social news site Reddit and blogging platform WordPress in accepting bitcoin payments.
Mr Dotcom, who awaits a hearing relating to criminal charges, in part, about pirated material on his original site, announced the move on Twitter.
"#Mega now accepts #BITCOIN via our newest reseller Bitvoucher: https://bitvoucher.co/ ," the founder posted on Saturday.
The virtual currency can be used to pay for extra storage space on the service.
Mega offers 50GB of free cloud storage, with the option to pay for extra storage ranging from 500GB to 4TB.
The exchange rate for one bitcoin currently stands at close to £17 ($26).
The cheapest package of 500GB costs 9.99 euros ($13.32; £8.61) per month - or half a bitcoin.
To pay in the internet currency, users need to access BitVoucher, the website of Mega's new reseller.
Criminal charges
Mega was launched in January, a year after Mr Dotcom - originally called Kim Schmitz - was arrested, and his original site Megaupload shut down.
It will be decided in March whether he should be extradited from New Zealand to the US to face charges relating to copyright infringement.
Megaupload became one of the most popular websites on the web before it was shut down, but Mega is meant to be bigger, better and legally watertight.
The new site allows 50GB of free storage upon sign-up - more than twice the amount if the user is signed up for free accounts with Google, Apple, Microsoft and Dropbox put together.
It is a site advertised as being a place where lots of files can be stored securely and accessed by the user, from any computer.
The content is encrypted, so even staff at Mega need the user's key to unlock it. But the key can be shared and the files might not just be family photos or a home recording. And this is where infringing copyright could, once again, become a problem.
Bitcoins first appeared in 2009 and are closely linked to the global network of computers that supports the currency and its users.
Many people generate or "mine" the coins by participating in that network, and a growing number of web stores and online firms accept bitcoins as payment.