Fake girlfriend: I paid for make-believe love on Facebook
By Dave Lee
Technology reporter, BBC News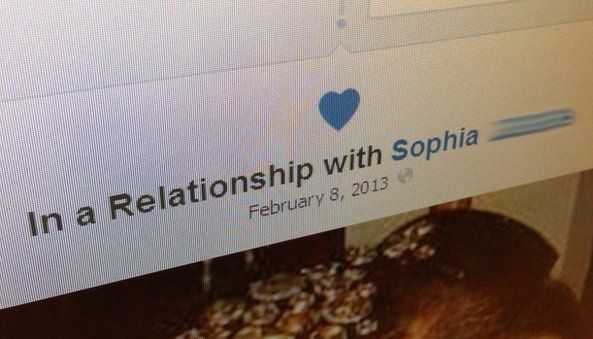 Twenty-four-year-old Sophia is smart, pretty and has hopes and dreams of getting to grad school.
And for $5 she will be your girlfriend.
"It's not a big deal really," she says, at the end of what has been an altogether very peculiar week.
"It's just easy to do... I just tick 'in a relationship'."
Sophia is one of many women - and a few men - who have essentially brought the age-old industry of escorting to the world of social networking.
Now, instead of hiring someone to grasp your arm and go out to a party or dinner - it's all about looking good online.
"It's mostly guys trying to make someone else jealous," Sophia explains. "Or to make their profile look like they've got girls all over them."
For the money, you get a week's worth of having "in a relationship with Sophia" on your profile, as well as a few status comments and "likes".
But is it really fooling anyone? Surely friends and family are able to see through such a falsely constructed ruse?
I decided to try to find out. For one entire week, ending today, I have been living something of a lie - confusing friends, family and colleagues as I go.
I hired Sophia to be my fake Facebook girlfriend.
The journey to find her took some time - but ultimately began with the discovery of a website that was launched in Brazil last month.
Called Namoro Fake, the site made lofty promises: "Who never thought of impressing your friends by showing up with a beautiful woman?"
"With only a few clicks those issues can be easily solved."
The site gives you several "candidates" to choose from, all keen to leave comments for men who want to "make their soon-to-be-exes jealous".
Unfortunately, it did not offer an English-speaking service.
While there's nothing wrong with that, convincing my friends I had suddenly found myself a wildly attractive girlfriend was going to be hard enough as it was - without the added issue around her communicating solely in Portuguese.
So instead, step forward Cloud Girlfriend - an American site.
Like Namoro Fake, it allows users to define their "perfect" girlfriend in the sign-up process.
Resisting the temptation to simply request "real", I opted instead for - and here's a look into my mind - a brunette, aged 25, who was well-educated and with a passing interest in stand-up comedy, film and, since we're dreaming, football.
But something was wrong. Although touted as providing a "Facebook" girlfriend, it became clear that Cloud Girlfriend did not seem to involve anything on the social network at all.
I got in touch with the owners to find out what was going on.
"We received 85,000 emails in [the first] three weeks from people who wanted to learn more," said co-founder David Fuhriman.
"Some would tell their stories, some would tell what they wanted in a girl, some were girls who wanted to be employed to update the status of the [fake] girlfriends.
"The response was surprising, sincere, enormous, and very international."
But then, a sucker punch: "Unfortunately we also caught the eye of Facebook's attorneys who sent us some letters about their terms of service."
It seemed that Facebook was not too keen on seeing this kind of service spring up on its platform - not due to the site's nature, but because of strict rules regarding fake or false accounts.
Mr Fuhriman decided to back off and instead run an "anonymous" chat room service - which was obviously of no use to me.
A last gasp Google search revealed many other sites offering online "girlfriend hire" - including one US-based website named Fiverr - a website which lists things people are willing to do for $5.
Some examples included "I will make a handmade greetings card for your loved one" and "I will record a video message in the style of Robert De Niro".
A search for "fake girlfriend" produced reams of women (or men, pretending to be women) offering their services as a person with whom to have a make-believe relationship.
There were a few offers for fake boyfriends, but it is overwhelmingly women who offer the service.
I picked Sophia, in part due to her location (it said UK), but mostly because of her well-written profile page - my cover would have been blown immediately if my "girlfriend" was the sort to "rite lyk dis".
Within a day, we had things set up - and then, before I knew it, there it was: I was "in a relationship".
"Woohoo!" Sophia commented on my page, with a little love heart for added effect.
It didn't take long for the first text.
Putting aside my annoyance at the sheer magnitude of Andy's surprise, it was good to see it had my close friends guessing.
And so followed a slew of inquisition from friends and parents.
Yet as the "likes" and messages totted up, I started to worry.
I didn't have a back story, nor a strong ability to act convincingly when asked.
In the absence of an explanation, friends offered their own theories: we'd met online, suggested one, while another guess was that we had fallen in love at the top of London's newest skyscraper, The Shard.
Within a couple of days, I came clean to Sophia, explaining that I was a journalist.
"That's quite funny actually," she said, before openly sharing her motivation behind it all.
"The whole Sophia thing is just my marketing username. Nothing on that Facebook profile is real! My photos on there are really me, but nothing else is."
"Do I enjoy it? I guess, in the sense that it's an extra income. I feel like it's innocent on Facebook when it's just changing a status online.
"It's an online persona, I don't really feel it has anything to do with me."
Recently, Facebook has been cracking down on fake profiles. After all, dogs tend to not click on advertising.
I asked the company what it thought of my experiment - and whether either Sophia or I had been in breach of their guidelines.
I wasn't. But in Sophia's case, it was slightly more complicated.
"Assuming the account ID is real and the 'business' activity is not happening in Facebook there would not be a policy violation," explained a spokesman.
"The only 'on Facebook' activity is changing relationship status and writing friendly comments. Whatever business agreement you strike with your beau in the offline is your own business!"
But as Sophia explained, while the profile is real - with photos of herself - the name she uses is not.
If Sophia is brought to Facebook's attention, she would be asked to use her real name - or disable the account.
But the spokesman admitted it was hard for the company to spot this kind of activity.
"We're not in the business of validating people's relationships," he said.
My friends, however, were. As the days plodded on, those close to me started to become suspicious.
Having a Facebook girlfriend was extremely hard work. And for what? As Sophia says, the main motivation for hiring someone like her is to make someone else feel bad about themselves.
With that in mind, I traipsed back to Fiverr to see if my money could get me something a little more feel-good.
I found Suzi Lindner (her real name, thankfully), a singer from New York.
She was offering a 30-second jingle on a topic of my choosing - so I naturally asked her to sing about my ordeal, which you can see below.
"Go out and get yourself a real girlfriend," Suzi sings. And quite right too.