Rupert Murdoch tweets Chinese 'still hacking' WSJ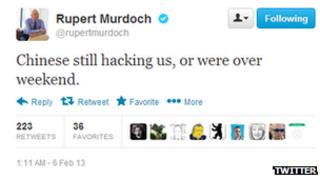 Rupert Murdoch has said that the Wall Street Journal (WSJ) newspaper remains under attack from Chinese hackers.
News Corp's chairman and chief executive made the accusation via a post on Twitter.
The WSJ reported last week that hackers had tried to monitor its coverage of China. That followed news that the New York Times believed it had also been infiltrated over a four-month period.
China's foreign ministry has denied any government involvement.
Despite this accusations have continued to mount.
On Saturday The Washington Post revealed it too had been the victim of a "sophisticated cyber-attack" dating back as far back as 2008, which had been discovered in 2011.
The paper said that "company officials suspect [it] was the work of Chinese hackers".
Google's chairman, Eric Schmidt, has also recently pointed the finger at the country.
'Ongoing issue'
He has written a book which says that China is the "most sophisticated and prolific" hacker of overseas companies, adding that "the disparity between American and Chinese firms and their tactics will put both the government and the companies of the US at a distinct disadvantage".
Rupert Murdoch's tweet adds to allegations that the threat is ongoing.
"Chinese still hacking us, or were over weekend," he tweeted. He did not reply to requests for more information and a spokeswoman for the WSJ declined to comment.
The WSJ had previously reported that hacking groups had entered its network via computers in its Beijing office. It said they then infiltrated its global computer system, targeting journalists in its Beijing bureau among others.
The paper said that security specialists had erased several of the company's hard drives in its Chinese bureau last year after the discovery, and that it had completed other efforts to overhaul its systems at the end of January.
However, a spokeswoman for the paper's publisher, Dow Jones, added that the firm recognised that data security was "an "ongoing issue".
China's Foreign Ministry spokesman Hong Lei has stressed that local laws forbid hack attacks and that the original claims printed by the New York Times were "groundless".