Mosaic QR codes boost tourism in Rio de Janeiro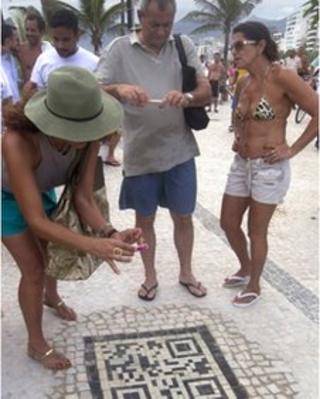 Officials in Rio de Janeiro have begun embedding quick response (QR) codes into pavements to guide tourists around the city.
The black and white codes are being built with the same stones used to decorate the pavements with more traditional mosaic designs.
The city plans to install 30 of the codes at beaches and historic sites.
The codes offer tourists more information about the most visited spots such as Ipanema beach.
QR codes were first designed for the automotive industry in Japan in 1994 but in recent years have become popular as marketing tools.
Wikipedia towns
In order to activate such codes, users have to take a picture of the code and the information can then be read by an app downloadable to their mobile phones.
The scanned code offers links to websites or other interactive content.
The launch last Friday attracted some users, but Rio is not the first place to integrate such codes.
City officials got the idea from Portugal, where similar pavement QR codes were placed around the city last summer.
In Gibraltar, QR codes take users to a Wikipedia page of information about the tourist attraction they are visiting.
It was a trend begun in May last year when the small Welsh town of Monmouth began installing 1,000 QR code plaques around the town, earning it the moniker Monmouthpedia.