Facebook boss Mark Zuckerberg insists site is not making a phone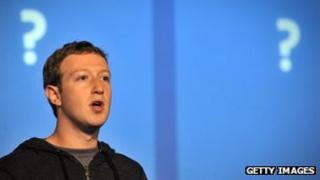 Facebook boss Mark Zuckerberg has strongly denied the social network is planning to release its own phone.
In an effort to dispel long-running rumours, Mr Zuckerberg said releasing a Facebook phone was "not the right strategy".
"We need to make Facebook really good across all of the devices [that people use]," he added.
His comments came as his company announced a sharp drop in profits - but an increase in revenue.
The company made a profit of $64m (£41m) in the final three months of last year, compared with $302m a year earlier.
But it has seen an increase in revenue coming from mobile advertising - an area investors see as one of the company's biggest challenges.
The company said that 23% of its advertising revenue now came from mobile.
"More people are starting to understand that mobile is a great opportunity for us," Mr Zuckerberg said in a conference call to discuss earnings, as quoted by Seeking Alpha.
"It allows us to reach more people.
"We have more engagements from the people who we reach, and I think we'll also be able to make more money for each minute people spend with us on their mobile devices."
'Keep pushing'
However, Mr Zuckerberg went on to tell investors that a phone did not fit into Facebook's plans.
"People keep on asking if we're going to build a phone," he said.
"And we're not going to build a phone... it's not the right strategy for us.
"The big thing for us is we've one billion people using our products and we need to make Facebook really good across all of the devices that they use - and we're going to keep on pushing to get kind of more integrated with the system."
Stuart Miles, from UK gadget blog Pocket-lint, told the BBC that any Facebook phone would be unlikely to succeed.
"If a Facebook phone was launched tomorrow, would you buy it? You wouldn't," he said.
"I think there's a sense where Mark Zuckerberg probably believes that every phone is a Facebook phone.
"The mobile apps work - you don't get phones now that can't get Facebook, so they just don't need to make their own."