EA boss denies video games encourage violent attacks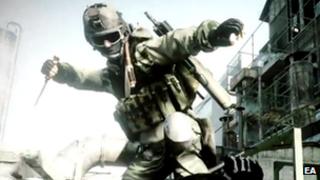 The boss of Electronic Arts (EA) has denied there is any link between video game content and "actual violence".
John Riccitiello spoke out on the subject during a conference call with bank analysts following his firm's latest earnings forecast.
But he acknowledged that his industry did face a "perception issue".
The topic has become the focus of political debate in the US following shootings in a Connecticut school and a Colorado cinema.
After the incidents, the National Rifle Association (NRA) - which itself had been accused of culpability - said the video game industry sowed "violence against its own people".
Republican congresswoman Diane Franklin subsequently proposed a sales tax on violent titles, saying the money should be used to "finance mental health programs and law enforcement measures to prevent mass shootings".
Former Green Party presidential candidate Ralph Nader went further, accusing games publishers of being "electronic child molesters" and demanded regulation.
Research studies
Vice President Joseph Biden was recently tasked with heading an inquiry into the causes of gun violence and specifically looked at the issue of computer games.
He concluded: "There is no hard data as to whether or not these excessively violent video games in fact cause people to engage in behaviour that is antisocial, including using guns."
However, during an online video interview, he also referred to a 2008 research paper published by the American Academy of Pediatrics.
It said that a study of US and Japanese youth had suggested playing violent video games was "a significant risk factor for later physically aggressive behaviour".
The research team behind the report also published a follow-up paper in 2010, in the American Psychological Association's journal, saying there should be "public education" so parents and schools could address the issue.
But the vice president said the studies had not made "the next connection" - that game playing actually led to violent acts - and concluded that more research was needed.
Wrestling with critics
As well as being EA's chief executive, Mr Riccitiello also chairs the US's Entertainment Software Rating Board - which decides what age guidance and warnings should go on games packaging - and the Entertainment Software Association (ESA) lobby body.
He said his industry had been "stunned and horrified" by the recent shootings but denied it had had a role in these or other attacks.
"There's been an enormous amount of research done in the entertainment field about looking for linkages between entertainment content and actual violence, and they haven't found any," he said.
"Hundreds of millions of dollars of the research has been done [and] has been unable to find a linkage because there isn't one.
"Now, having said all that, and with all, if you will, humility about the world we live in, we understand that while there may not be an actual problem, given all the finger pointing going on in the press, there appears to be the perception of a problem, and we do have to wrestle with that."
He added that other members of the ESA were also ready to "step up" to tackle the issue.
His comments follow other calls for the video games industry to do more to engage in the debate.
The PC-games-focused site Rock Paper Shotgun recently published an editorial suggesting those involved in the industry had tried to avoid discussing the issue in order to avoid fuelling the cause of critics with "knee-jerking agendas". But it added it was "irresponsible" not to try to convince the NRA and others that they were wrong.
"There is no-one who needs to know about the effects of video game violence more than gamers themselves," the site's co-editor John Walker told the BBC.
"So far all studies have shown that games do not cause a person to become violent, but that doesn't mean we should become blase about it or dismiss it out of hand.
"Gamers and producers need to frequently talk about the subject and be seen to openly discuss both the positive and negative effects gaming may have."