Is piracy a Mega problem for Hollywood?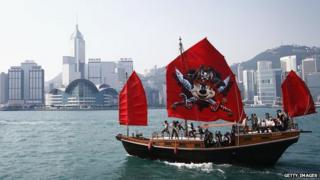 File-hosting site Mega has faced intense criticism about the sort of files it has been storing in the cloud, but the sharing of copyrighted content illegally is a problem far more widespread.
The launch of Mega was meant to be founder Kim Dotcom's big return.
Dotcom - originally called Kim Schmitz - is still awaiting a hearing relating to criminal charges, in part, about the "massive scale" of copyright infringement and pirated material on his original site Megaupload - charges he denies.
Megaupload became one of the most popular websites on the web before it was shut down but Mega is meant to be bigger, better and - most importantly - legally watertight.
The new site allows 50GB of free storage upon sign-up - more than twice the amount if the user is signed up for free accounts with Google, Apple, Microsoft and Dropbox put together.
It is a site advertised as being a place where lots of files can be stored securely and accessed by the user, from any computer.
The content is encrypted, so even staff at Mega need the user's key to unlock it. But the key can be shared and the files might not just be family photos or a home recording. And this is where infringing copyright could, once again, become a problem.
Anti-piracy stance
"The encryption protects Kim Dotcom. It doesn't protect the end user," says Andrew Orlowski, columnist at The Register.
"Although unless you live in France or Korea, it's frankly unlikely that someone will come knocking on your door if you do use the service to upload copyrighted content."
Piracy is a problem for a number of industries.
Richard Atkinson, head of software company Adobe's piracy unit, said that 55 million "illegal activations" of pirated versions of the photo-editing software had occurred in the last year.
And the film industry has been among the loudest of critics.
Hollywood loses close to $20.5bn (£13bn) to movie piracy in a year, according to a report published by the US Institute for Policy Innovation.
Hollywood revenues in North America for 2012 were reported at $10.8bn (£6.8bn), the highest total figure ever.
The difficulty detecting piracy is, of course, keeping on top of everything being uploaded. Mega said more than one million people used the site in its first day.
Dotcom says his new enterprise is already in the top 150 "most visited" sites in the world. A number of other sites which take an anti-piracy stance often link to content hosted by Mega - content they believe has been placed there illegally.
However, Dotcom firmly believes his site is sticking to the rules.
"Mega is now hosting almost 50 million files," he he tweeted on 31 January.
"Only 0.001% have been taken down by content owners. MASSIVE non-infringing use!"
When searching for content hosted by Mega - via a third-party site not endorsed by Mega itself - in two minutes the BBC found full versions of the films Django Unchained, The Hobbit, Skyfall and The Dark Knight Rises.
But as Mega has said from the outset, reported content is taken down. This happened to all four of these examples.
"Copyright takedown notices per day: Google 450,000 vs Mega 50," Dotcom tweeted separately.
The search engine itself - because of a code "developed by Mega to delete all files indexed on Mega-Search" - became unusable.
This included some content uploaded there that was not infringing copyright.
Despite all this attention on Mega and its activities, films under copyright are not difficult to come by elsewhere.
"It's pretty much impossible to prevent this happening, from your site being used for these illegal purposes as well," says Ernesto Van Der Sar, the name used by editor-in-chief of file-sharing news site TorrentFreak.
"There's also Dropbox and Google Drive and they're also hosting content that's not so legal. That's also searchable on Google if you know how to look for it.
"Mega are being watched so they're trying to be proactive about it. There are search engines for Dropbox, pretty similar to the ones used on Mega, it's not unique."
This content is not placed there by the hosting companies, but is made available by users. And this appears to be true, even on major search engines.
Moles and mallets
After typing in "stream Skyfall", the top free result provided more than 80 links to watch the content for free. About 50% of the top links provided a fully-working stream of the film.
There are a growing number of people who think that it is nearly, if not entirely, impossible to beat web piracy.
"Stopping online piracy is like playing the world's largest game of Whac-A-Mole," journalist Nick Bilton wrote in the New York Times.
"Hit one, countless others appear. Quickly. And the mallet is heavy and slow."
A "six-strikes" scheme, believed to be launching in the US in the coming weeks, is hoped to stem the tide of illegal content on the web.
Agreed by most major internet service providers, final details of the scheme are still to be confirmed but it will enforce a Copyright Alert System to warn those people sharing copyrighted content using BitTorrent sites - a method of obtaining files by downloading from many users at the same time - to stop.
The way it is expected to work is that five or six warnings are given to users, who will be made to watch a video about the consequences of online piracy, before having their internet speeds lowered.
This scheme will not initially affect piracy seen on file-hosting sites like Mega, so questions about its success will remain long after its launch.
The film industry is certainly worried about the amount of pirates still taking to the stormy Hollywood seas.
But if the pirates cannot be beaten, have media companies still got time to seize an opportunity?
"They should look at how they can give consumers what they want for a fair price," says Van Der Sar.
"It's already happening but that's the only way to do it - make it more convenient than the pirated alternative.
"Five years ago, you didn't have Netflix, it was hard to stream movies online, Spotify for music... but Dotcom is right. The big media companies blame piracy for everything.
"Maybe they should spend their time on being even more innovative."