Blackberry 10: Expert views on Blackberry's new smartphone system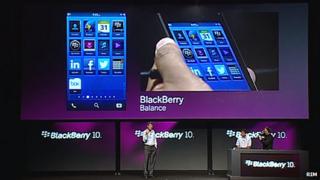 In future years the launch of Blackberry 10 may be seen as the firm's turnaround - or the moment its fate was doomed.
Though BB10 shares part of its name with the code that powered the firm's earlier handsets, in truth it is a completely different platform based on software the Canadian company acquired in 2010.
Making the switch has proved problematic. Multiple delays helped sink the firm's share price and led to the departure of much of its senior management team.
It also contributed to the firm reporting in December that it had seen its first ever drop in subscriber numbers.
The news stoked concern that a decade on from selling its first smartphone the company might be close to unveiling its last.
Fast forward a month and there are reasons to be more positive.
Several tech blogs have praised BB10's Flow feature which allows users to swipe and slide between apps and messages.
The firm's share price has risen to $15.66 from September's low of $6.31.
And Blackberry says it will offer more than 70,000 apps as well as movies, TV shows and music from most of the major studios and labels when its revamped Blackberry World store opens for business.
Ahead of the launch event - and the firm changing its name from Research In Motion (RIM) - the BBC asked four experts for their views of BB10's chances from the perspectives of investors, potential buyers, gadget addicts and company IT executives.
Stuart Jeffrey, Nomura Securities analyst
We suspect that there is strong pent-up demand from Blackberry fans and corporate users for a Blackberry with a competitive multimedia experience.
BB10 promises to drive strong initial sales of RIM's first compatible products, supporting its share price.
But we see two key issues that may temper expectations once this pent-up demand is met that cause us to take a cautious view on the stock.
While most handset vendors try to compete on one or two layers of the smartphone value chain RIM is vertically integrated - like Apple.
This means that if RIM is to succeed the company must somehow offset the greater component purchasing power of its larger rivals, match Apple and Samsung on design, attract application developers away from iPhone, Android and Windows Phone - all while pushing a compelling marketing message on a relatively limited budget.
If RIM fails in any of these tasks - which we consider likely - then sales may end up being restricted to the relatively small corporate market.
Secondly, RIM's move to BB10 is likely to erode a significant profit stream: BB7 subscribers pay RIM, through their carriers, a monthly fee for RIM's unique services.
We estimate that consumers pay around $2 to $3 per month and corporate users $7 to $8 .
With BB10 this monthly fee drops away for consumers and for smaller companies. We estimate that this may cut RIM's gross profit by over $1bn (£635m) over the next two years.
To replace this profit stream RIM needs to raise device sales by approximately 15 million units, or a 50% increase. Only if sales exceed this level can RIM's profits start to rise.
So while the initial impact of BB10 could continue to support RIM's share price we believe that the longer term outlook remains challenging.
Ben Wood, CCS Insight telecoms consultant
I think RIM will be going after three main groups with its new Blackberry 10-powered devices.
Its first concern will be existing customers.
These are the long-time older Blackberry owners who initially had one for business and have continued to tough it out in recent years.
Many of them feel they've fallen behind friends and colleagues when it comes to having an all-singing, all-dancing smartphone, but the allure of the full keyboard, a great e-mail experience and other things like the Blackberry Messaging (BBM) service have kept them loyal.
If RIM can't hold onto these people, the new platform and devices face a very uncertain future. If they decide to stay, these users will be evangelists for the updated products and could help kickstart RIM's recovery.
The next group RIM needs to convince is former Blackberry users.
There are plenty of them out there who have been seduced away by an iPhone or an Android device - usually a Samsung.
RIM hasn't had a good reason for these former customers to return, but it now has something to tempt them back. The challenge with this group is that many of them will be locked into a contract.
This means it's likely to be the second half of the year before they start thinking about switching back to a Blackberry.
The final group RIM will be worrying about are the teenagers and 20-somethings who got a Blackberry primarily because of BBM and Facebook.
These are the customers that made the Blackberry the third best-selling smartphone in the UK at the end of 2012.
This group probably won't be able to afford the flagship products RIM is unveiling today, but I expect we'll see lower-cost products later in the year. RIM must ensure that BB10 pushes the right buttons for the youth segment that was once its powerhouse for growth.
Joseph Volpe, Engadget tech site journalist
It's been five months since last I saw RIM's soon-to-be-revealed BB10 touch device, but if recent leaks are any indication, little has changed since that prototype phase.
With a design language that's sure to invite comparisons to the iPhone 5, it's safe to say RIM's flagship will be a controversial talking point, even if it was in development long before Apple handset's release.
And with good reason, too. Given the incredibly protracted transition from BB7 to this next-gen operating system, the beleaguered company has set expectations far too high. So, anything less than perfect or, in this case, unintentionally imitative is bound to open the floodgates to negative feedback.
Again, I'm basing my impressions on the near-final hardware I previewed, but regardless, it's hard to feel confident about RIM's shot at success when you consider how unremarkable the rumoured Z10 handset is in-person.
The device is more workmanlike than premium, thanks, in part, to the hard, rubberised backplate and monochromatic styling.
It's a full-on Monet, to borrow a line from the movie Clueless - attractive from afar, but disappointing up-close.
Perhaps that's the point, as there's no denying RIM's kept its sights on the enterprise base that built its former empire and has crafted an unfussy smartphone to target that power-user segment.
Still, less remarkable hardware has seen blockbuster success - just look at Samsung's Galaxy S3. So, for RIM, a cheap build won't be the hand that rings the death knell.
No, the weight of the company's fate falls heavily on its years-in-development BB10 operating system. When I first glimpsed the QNX-based platform late last summer, I was admittedly impressed.
Running off a prototype device, the software was fast, fluid and cleanly laid out. Beyond the simple keyboard demo I'd been privy to in the months prior, this was a fuller look at the Flow, Connect and Extend concepts incorporated into the platform. And much to the company's credit, BB10 is indeed an incredibly simplified user experience; one that won't seem unfamiliar to Android or iOS users.
On a scale of usability, it falls just beneath Windows Phone 8 - the third-place mobile platform it has no choice to but to parry with.
That's not to say there isn't a learning curve involved. The gestures RIM's built in for seamless navigation take some getting used to and the same goes for its much-vaunted, touch-based keyboard.
I've had extensive hands-on time with the SwiftKey-like input scheme and, apart from its clean layout, I can't see much use in the keyboard's predictive text capabilities, nor can I envision prospective users investing in its idiosyncrasies.
It's disjointed, somewhat unintuitive and the swipe gesture required to select a desired word largely interrupts a user's workflow.
Fortunately, die-hard Blackberry users and former loyalists rooting for the company's comeback won't have to make do with the all-touch Z10 and its quirky keyboard. RIM has another more familiar BB10 handset waiting in the wings; a QWERTY model set to launch sometime after the Z10.
I briefly handled this device when it was still in prototype form and the best compliment I can pay it is that it's undoubtedly an evolution of the Bold line. Which is to say, it's a hardware design RIM's less likely to muck up. If anything, that upcoming traditional take on Blackberry is where RIM's most likely to succeed.
Scott Matsumoto, Cigital security expert
BB10 builds on RIM's strength of enterprise-ready mobile device security.
Chief technology officers will appreciate its Balance feature which will let them prevent company data being accessed by a user's personal apps and ensure that work-related information can be wiped remotely if, for example, the employee quits.
The ability to separate work and personal environments on a single device should preserve users' privacy while also protecting their employer.
Generally such features will be most applicable for managers and executives because they require access to a company's most sensitive data.
But many roles within an enterprise do not need the enhanced security Blackberry offers nor will BB10 reduce the appeal of staff being able to bring their own devices to work.
That trend means many companies have already installed software to handle iPhones and Android-based devices and ensure they do not threaten their IT systems as a consequence of their greater vulnerability to malware and other third-party attacks.
Indeed, RIM's own Enterprise Service management software itself supports rival devices.
Furthermore companies wishing to provide their own staff with in-house apps will be mindful that developers are likely to be more familiar with writing native software for Apple and Google's operating systems because of their dominance among consumers.
RIM is also facing competition from Microsoft's Windows Phone 8 platform which is pitched as having its own top-level security features and being easy to programme for thanks to it sharing much of the same core software as the Windows 8 PC operating system.
BB10 does provide some compelling security features - but in light of other trends organisations are unlikely to adopt it as their sole solution as they might had done in the past.