Under-age workers found in Apple supply audit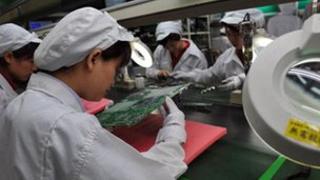 Apple has terminated a contract with Chinese circuit board manufacturer PZ after discovering 74 under-age workers were working there.
The workers, who were all under 16, had been supplied by a regional recruitment company who gave them fake identity papers, the tech giant said.
They have since been returned to their families.
Apple has carried out 393 audits of its suppliers for its latest investigation into staff working conditions.
The recruitment company, named in the report as Shenzhen Quanshun Human Resources Co Ltd, has had its business licence revoked by the regional government as a result of the findings, Apple claims.
Guangdong Real Faith Pingzhou Electronics Co Ltd, more commonly known as PZ, makes "a standard circuit board component used by many other companies in other industries", according to the report.
Apple eventually hopes to eradicate child labour from the technology manufacturing sector completely, senior vice-president of operations Jeff Williams told Reuters.
"We go deep in the supply chain to find it," he said.
"And when we do find it, we ensure that the under-age workers are taken care of, the suppliers are dealt with."
The report also claims that 92% of the 1.5 million workers covered by the audit worked a maximum of 60 hours per week.
In October 2012, China-based iPhone and iPad manufacturer Foxconn admitted hiring 14-year-old interns in one of its factories
"We recognise that full responsibility for these violations rests with our company and we have apologised to each of the students for our role in this action," the electronics manufacturer said in a statement.