Samsung, Apple, Nokia and the smartphone dogfight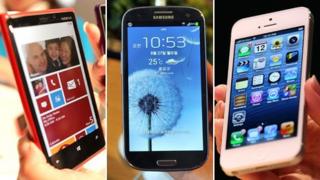 In little over 24 hours we have seen results from three of the biggest players in smartphones - which may now be the world's most important industry.
Samsung, Apple and Nokia each have given us plenty of new figures to chew on - and that helps us map this fast-changing landscape a little more clearly.
Samsung
So famous is Samsung for smartphones that it is sometimes hard to remember that the Korean giant is a vast industrial conglomerate making everything from refrigerators to semiconductors. But it is clear from stunning fourth quarter results which saw profits rise 87% on the previous year to 8.84tn Korean won ($8.3bn; £5.26bn) that it is smartphones which are powering Samsung's rise.
The phone division contributed more than half of that profit, remarkable when you think how much bigger other divisions of the business are. The company doesn't break out smartphone sales figures, but analysts reckon it sold 63.5 million in the quarter, with 40 million coming from the Samsung Galaxy S3.
With its "phablet", the unfeasibly large Galaxy Note also proving an unlikely hit, Samsung looks well placed to extend its lead in the market in 2013. There is however a cautionary note: the company warns that as the market reaches saturation in developed countries and competition increases in developing countries, profits will be harder to come by.
Apple
Apple also produced what would in any other context be seen as remarkable results, with profits of $13bn (£8.24bn) in 13 weeks - about the same as it made in 14 weeks in the last quarter of 2011.
48 million iPhones were sold, outpacing the Samsung Galaxy S3, and each of those phones made more money than a Galaxy. Apple is even more dependent for profits on smartphones than Samsung, and that is perhaps why the market responded by sending its shares down 10%.
The same note of caution about market saturation and increasing competition in developing markets applies to the iPhone, although it sold well in China in the last quarter.
Apple still takes a vast share of the mobile phone industry's profits - but how much longer can that last without some radical new innovation?
Nokia
Nokia knows how rapidly the landscape can shift in the mobile industry, and how hard it can be to make profits from smartphones.
But, after a terrible year, the outlook brightened in its latest figures which showed a modest return to profit. Over the year as a whole, smartphones sales were down 55%, but they rose 26% in the last quarter.
Nokia's embattled CEO Stephen Elop latched on to the performance of the flagship Lumia range, with sales of 4.4 million providing evidence that the Windows-based phones were at last making an impact.
But one figure buried in the accounts shows how hard it was for Nokia to win those sales - the average selling price of its smartphones was €186 (£158). Compare that with the $641 (£406) that Apple recouped from each iPhone in the last quarter, from 10 times as many sales, and you can see what a chasm the Finnish company still has to cross to offer real competition to the market leaders.
So, Samsung and Apple are still top dogs in the market smartphones, but Nokia is now looking a little better placed to challenge for the number three position.
Next week, the landscape could change again with the launch of Blackberry 10, and then in February the Mobile World Congress will see Chinese firms like Huawei pushing for a pace at the smartphone table.
For consumers, there is the prospect of more choice and lower prices, for the phone-makers an increasingly desperate fight to claim their share of the cake. it will be fun to watch.