Ex-Sony Wipeout veterans create new video games studio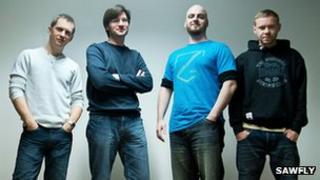 A group of video games developers from Sony's defunct Liverpool operation have created a studio in the city.
Sawfly Studios told the BBC it planned to release its first game - targeted at smartphones and tablets - within the next couple of months.
About 100 people lost their jobs when Sony closed what was one of the UK's oldest games developers last August.
The unit was responsible for the Wipeout racing series, but dated back to 1984, when it was called Psygnosis.
Four of its former employees are involved in the new business - two designers, a programmer and an artist - but they said they might take on other ex-Sony Liverpool Studio workers once they had launched their initial title.
"Most people have already been hired, but there still a few that are looking for work," said Sawfly's managing director Mike Humphrey.
"The closure of the studio came as a bit of a shock and the artists in particular have had to spend time creating their portfolios and getting them out in the world to show what they are capable of doing.
"We want to grow our studio over the coming years and to take on experienced, talented people - and the workers at Liverpool Studio were exactly that. So if the opportunity arises we'll definitely be looking to grow in the city."
Racing experts
Sawfly is currently working on a project commissioned by British publisher Ripstone, the details of which are still under wraps.
In addition Sawfly said it was in discussions to work on other publishers' titles and planned to develop its own intellectual property.
Under Sony, the studio's workers had specialised in racing games, including Formula 1, Motorstorm and their last release Wipeout 2048.
But Mr Humphrey said their current project marked a "change of direction" into another genre.
He added it was much easier to make decisions now the designers were not involved with a big corporation.
But he stressed that while Sony's action had been a surprise, there was no "ill will" towards the company - rather a recognition that few jobs in the industry were as safe as they used to be.
Industry turmoil
The games sector is currently in a period of transition.
New consoles from Sony and Microsoft are expected later this year following the recent launch of Nintendo's Wii U.
But the relatively expensive titles for such machines are facing competition from cheap and free-to-download games for smartphones and tablets. The upcoming launch of Valve's Steam Boxes - which aim to make it easier for PC titles to be played on TVs - poses another potentially disruptive challenge.
Meanwhile, the rise of gaming on web-based social networks appears have gone into reverse as users spend less time visiting sites like Facebook on PCs and more time using mobile devices where they tend to prefer standalone apps.
Against this backdrop Sony is not the only firm to have enforced cutbacks.
In recent months EA has also closed its PopCap Dublin studio, Zynga shut its Japan unit, and Eurocom - the Derbyshire firm behind several James Bond and Harry Potter games - went out of business.
Most recently THQ - the California-based 23-year-old publisher and developer - collapsed.
Although many of its divisions have been sold on, the firm confirmed on Wednesday that its Vigil Games unit had failed to find a buyer and had been shuttered. The subsidiary was responsible for the Darksiders franchise.
"I think the truth is the industry is changing under our feet and none of us really know where it will settle," said Mr Humphrey, reflecting on the latest developments.
"The advantage of being the size we are now with Sawfly is that we can adapt quite quickly to a changing market. Obviously if you're a large studio with 100 or 300 employees, you cost a lot every month [to run] - just changing direction can be crippling.
"I wouldn't be surprised if the industry continues to change and I have no idea where it will end up - but I feel we're now in a good position to weather the storm."