EE offers new tariff for 4G and more data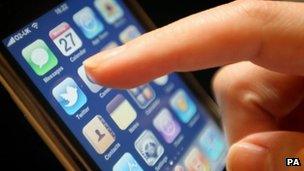 EE has cut the prices of its 4G services as it positions itself against competitors set to launch rival services.
It is now offering a basic 4G service for £31 a month and a "super-user" service offering 20GB of data for £46 a month.
The spectrum auction that will allow other operators to also offer faster 4G services starts this month.
They will have services up and running by early summer.
"EE's decision to offer both a relatively lower-priced tariff at the entry level and a plan with more data at the top end is clearly in response to customer feedback," said Matthew Howett, an analyst with research firm Ovum.
"More importantly though, it is a pre-emptive strike aimed at its competitors who are soon to launch tariffs of their own once the long-overdue auction of 4G licences is completed," he added.
The firm had faced criticism over 4G data allowances.
"It is our aim to offer consumers the most comprehensive range of 4G EE price plans," said Pippa Dunn, chief marketing officer at EE.
"With these new options we're looking to not only make 4G smartphones even more accessible, but offer even greater value for the small number of super-users out there,"
Meanwhile Phones4U, which has to date focused on selling mobile phones, has announced that it will launch its own mobile service, running on EE's network.
The service will launch in March and will initially offer only 2G and 3G, with 4G connections becoming available before the end of the year.
LifeMobile, as the service will be known, will be available from Phones4U's High Street shops as well as Currys and PC World stores.
The firm is the 25th mobile virtual network operator (MVNO) signed by EE.
Related Internet Links
The BBC is not responsible for the content of external sites.