CES 2013: New players prepare to shake up video gaming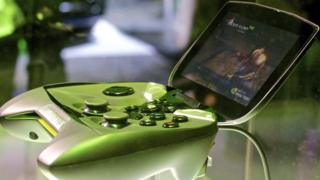 Bang! Chipmaker Nvidia unveils Project Shield - a handheld console capable of playing on-board Android video games and streamed PC titles on both its own screen and connected ultra-high definition TVs.
Power-up! PC gaming giant Valve confirms plans to make its own "Steam Box" console, and invests in hardware-maker Xi3.
Special attack! The boss of Ouya, the crowdfunded Android console, meets games developers and accessory partners in Las Vegas just weeks before revealing her device's launch line-up.
The Consumer Electronics Show is usually a relatively minor event in the gaming calendar, but the fallout from this year could disrupt the industry just as it readies for the launch of a new PlayStation and Xbox.
Geek-led gadget
Nvidia's move was arguably CES 2013's biggest surprise. Until now the firm had focused on making processor chips and graphics cards for customers including Sony and Microsoft.
Now it could be competing directly with its partners.
"We decided to make Project Shield because it sounded really cool and we're a big bunch of geeks," says Nvidia's Bea Longworth, when asked why it embarked on the project.
"The way I think of Project Shield is that we've gaffer-taped together an iPod touch, an Xbox controller and a Jambox [sound system].
"To some extent it's an experiment but we wouldn't do it unless we thought there was a chance that it would be successful."
The device's fortunes could be determined by its price.
Demand for Nintendo's 3DS handheld console only really took off after the firm cut its price to $169 (£105) in 2011. Meanwhile Sony's recent slashing of the sales forecast for the PlayStation Vita has been blamed by some analysts on its refusal to reduce the $250 (£155) price tag.
Nvidia's chief executive Jen-Hsun Huang says he hasn't decided what Project Shield will cost, telling the Venturebeat news site: "It's going to be priced like an Android device."
Kickstarted console
Whatever Nvidia settles on, it is unlikely to be below Ouya's $99 (£61) price point.
The cuboid console will let gamers play Android titles on their TV via a controller featuring a touchpad alongside the usual joysticks and buttons.
The machine is due to be launched in March and was part-funded by $8.6m worth of pledges from the public through the Kickstarter crowdfunding website.
It has kept costs down using off-the-shelf components, but is designed to let users open it up and install alternative parts if they wish.
"Console gaming had traditionally been closed to new entrants," chief executive Julie Uhrman tells the BBC.
"That's made it very difficult for small developers to bring titles to the television, and really expensive for gamers [to play]."
She says her firm's use of Google's open source Android system should change that, but adds that she wants to see more than just ports of games designed to run on tablets and phones.
"The one thing the television brings that mobile devices don't is the emotional connectivity that you can have with a game," she says. "That suck-you-in, I want to play this game for hours on end-factor.
"It's those type of games that are going succeed on Ouya."
Project Shield and Ouya suggest Google's operating system will become a major gaming platform. But not everyone is convinced.
"Android has a lot to prove," says Jason Schreier, an editor at games news site Kotaku.
"Right now in the mobile and tablet space if you want to play games Apple's iOS is your best bet.
"So, it is interesting to see Nvidia and Ouya going to Android which has not been such a strong powerhouse."
Valve's vision
Mr Schreier is more positive about Valve's news, saying that bringing the large library of games on its Steam store to TVs could be a "game changer" since they typically sell for a fraction of the price of console disks.
Valve already offers a "big picture" mode for users who want to connect their PC to their TV.
Its Steam Box console adds to this with hardware designed to look good in the living room, a new games controller, and access to internet TV services such as Netflix, according to an interview the firm gave to The Verge.
The challenge for the firm is that traditional console-makers have deep pockets. They typically order huge runs of their devices at launch to minimise their cost - and then go on to sell them at a loss, betting they will eventually make a profit years down the line.
As a result, Valve may find it impossible to match or surpass the next PlayStation and Xbox's specifications without being lumbered with a much higher price tag.
But the firm's hardware partner, Xi3, suggests there's a reason gamers will not be dissuaded.
"The problem with consoles is that when you buy one the hardware and capabilities of the machine are frozen," says the firm's chief marketing officer David Politis.
"You can't change it and you can't modify it - with the exception of what you can do in the cloud.
"But with an Xi3 modular computer you can modify it almost to your heart's content.
"You can change out the hard drive, add Ram [memory] and upgrade the motherboard - send us the old one and we'll even give you credit for it."
Quite how Sony and Microsoft are going to deal with all this may become clearer at the E3 video games convention in June.
Get ready for some serious mulitplayer action.