CES 2013: Lessons from Las Vegas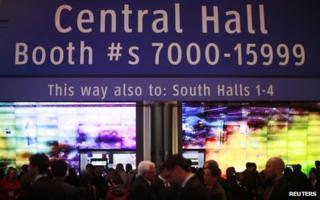 I've been coming to the Consumer Electronics Show in Las Vegas since 2007, and I think at last I'm beginning to get the hang of it.
It's loud, overwhelming, crowded and sometimes chaotic - but there are ways to cope with it. So here's what I've learned in Las Vegas this year.
The best stuff is not on the floor
The two most exciting products I came across at CES this year were not on any of the stands in the vast Convention Centre, and neither was made by one of the big names in consumer electronics.
The Pebble watch, which connects to your smartphone and allows you to look at text messages, answer calls - and even tell the time - with a simple glance at your wrist is already a huge hit thanks to the crowdfunding site Kickstarter. And just by turning up in Las Vegas and announcing that the watch was at last going to ship, Pebble's CEO Eric Migocovsky managed to create even more buzz around his product.
This may just be version 1.0 of the smartwatch era, with plenty of bugs that need to be ironed out, but Pebble looks certain to make Mr Migocovsky one of the tech industry's brightest young stars.
And in an unpromising back room I was shown something even more impressive. Leap Motion's Leap is a small, beautifully designed device that you plug into your computer. This creates an invisible field around the computer, allowing you to control what happens on screen with your fingers, whether it's slashing melons in a game of Fruit Ninja or shaping a vase in a 3D design program.
This was the most impressive demo I've seen of gesture as a new computing interface and it looks set to make the founders of Leap Motion very rich. Our predecessors in the shabby conference room were executives from one of the biggest names in global entertainment, and the firm has already struck deals with computer makers who will install their technology inside their products.
Get connected
It is no use gathering interesting material if you can't find a quick way of shipping it back home. We used to rely on satellite feeds - reliable but expensive - but most of the time we are now using internet connections to feed our video and audio back to the UK. This means hotel wi-fi, which is often flaky but served us well this time, or mobile phone networks.
And this year we tried something new to go live, a technology called Live U which bonds together several Sim cards to produce a strong broadcast signal. With 4G networks available in Las Vegas, this worked a treat when we broadcast live from the Strip late at night - eight TV and radio broadcasts without a hitch. But when we tried it again from the Convention Centre the next day, the speed dropped so far that the video image froze and we had to give up. However fast the mobile networks, put thousands of technology journalists in one place and they will test them to destruction.
Sensible shoes, sporadic sleep
CES is an exhausting experience and if you're travelling from the UK, there is the added challenge of jetlag. Then there is the geography of Las Vegas, a city almost devoid of public transport - there is a monorail but it seems designed mainly to get you to walk miles through casinos before you find a station.
You could try a taxi, but during CES the queues are endless so walking is often the best option. This year I wore two fitness devices, the Fitbit and Nike's Fuelband, that monitor your activity and sync the data with a smartphone.
Each showed me walking miles each day, though the Fitbit struggled to cope with the different timezone and seemed reluctant to hand over information to my phone. It was also supposed to monitor my sleep pattern but as I had to remember to press a button before I fell asleep, this didn't really work. Overall, I reckon I managed about four hours sleep each night - but this is Vegas, who needs sleep?
Teamwork is vital
In the business of broadcasting, you have to operate as a team and I'm lucky to work with some really talented people.
This year, cameraman Steve Adrain surpassed himself with stunning time-lapse sequences of Las Vegas traffic by night, and calm late edits to meet London deadlines. Producer Victoria Fritz, who spent weeks researching interesting companies in advance and dug out the Leap Motion story, also proved invaluable on security duties.
As I broadcast live to BBC Breakfast at midnight outside Planet Hollywood, I saw out of the corner of my eye my producer speeding past in hot pursuit. Two drunks out on the town had decided it would be great to appear on British TV, demonstrating their own gesture interface. Victoria thought otherwise and ushered them firmly down a flight of steps and out of shot.
And one last lesson - never moan to colleagues or family about the sheer hell of covering a gadget conference in Las Vegas. Some of your gripes may be true but nobody's ever going to believe it is anything but the best job you could imagine. And they're probably right.