Navigational backup to aid ships in Dover straits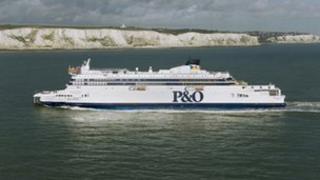 Ships traversing the busy Dover Strait now have more help to work out where they are and avoid other vessels.
A technology called eLoran has been turned on to help navigation if Sat-nav based systems (aka GPS) fail or are jammed.
The General Lighthouse Authority (GLA) has turned on a radio station which broadcasts fine-tuned eLoran signals.
Ships fitted with eLoran receivers will now be able to use the backup radio signal to reach port.
Longwave alternative
The eLoran technology is based around longwave radio signals that are broadcast from nine separate stations in Northwest England, France, Germany, and the Faroe Islands.
Now added to this is a GLA station in Dover that broadcasts corrections to eLoran that makes signals so precise ships can enter harbours using them in the event of GPS failure.
In a statement shipping minister Stephen Hammond said the technology should improve navigational safety in "the busiest shipping channel in the world".
Maritime navigational instruments tend to rely on GPS positioning which employs timing signals broadcast by a constellation of satellites. However, GPS signals can fail or be fooled by a conflicting radio signal, said Professor David Last, an advisor to the to General Lighthouse Authority.
"The problem is, many vessels are wholly dependent on GPS, " Prof Last told the BBC. "GPS can and does go wrong."
GPS signals are weak, and so can be disrupted by solar storms, or by a stronger signal broadcast in the vicinity by a GPS jammer. Compact GPS jammers that run from a car are available to buy, although use is prohibited.
GPS is used to determine a ship's position and direction, and for communications. All ship's instrumentation is integrated, so if anything goes wrong, the systems can completely fail.
GPS can be disrupted by a weak signal broadcast on the same frequency, said Prof Last. The weak signal can cause a ship's instruments to gradually drift out of true, without setting off any alarms, leaving the ship in a different position to where it "thinks" it is.
"The ship will drift away from its true position, and slowly start to turn," said Prof Last. "It's insidious."
eLoran is not widely used on commercial shipping, although an eLoran receiver has been installed on a new P&O Ferries ship, called the "Spirit of Britain".