Google withdraws patent claims against Microsoft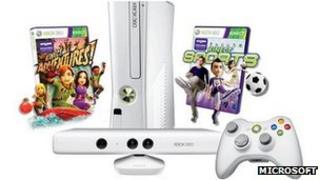 Google has ended one patent war with Microsoft over video compression technology used in the Xbox 360.
The firm had also argued that Microsoft was using its wi-fi innovations.
Google has now asked the US International Trade Commission, which handles patent disputes, to withdraw both claims.
Microsoft said it now hopes Google will withdraw similar claims in other rows, including one over licensing terms.
Microsoft wants to licence the patents but has refused to comply with Google's demands it should pay up to $4bn (£2.5bn) a year to use them.
In a separate ongoing dispute in a US court, Microsoft is arguing that the patents, which belong to the Motorola Mobility Unit owned by Google, were only worth about $1m (£623,000) per year to use because the technology they related to is so essential to the tech industry as a whole.
Licence fees
Google countered that the two firms should have tried to negotiate a deal based on the starting point of a 2.25% royalty demand, which it described as "the only logical starting point" since it had agreed other licences on this basis.
The case is pending ruling by a US judge after which a jury would be asked to rule over whether that royalty fare was too high.
Microsoft's refusal to discuss a deal on these terms prompted Motorola to file lawsuits in the US and Europe last year, seeking to block several Microsoft products from sale on the basis that its rights had been infringed.
In May 2012, Google succeeded in winning an injunction against Microsoft in Germany, allowing it to impose a sales ban there against the Xbox 360 games console, Windows 7 system software, Internet Explorer browser and Windows Media Player.
But another judge overruled the ban.
Price of patents
It is yet unclear what impact the latest incident will have on other pending disputes. In addition to the one over licensing fees and a case in Germany involving standard essential patents, Google has maintained legal action against Microsoft in the ITC over a patent relating to a wireless peer-to-peer network, which is not a standard essential patent.
But David Howard, corporate vice president at Microsoft said: "We're pleased that Google has finally withdrawn these claims for exclusion orders against Microsoft, and hope that it will now withdraw similar claims pending in other jurisdictions as required by the FTC consent order."
Chris Green, tech analyst at DMG Europe, told the BBC: "It's noticeable that in the last two to three years the pace of product development has slowed down because everyone is terrified of patent disputes,".
Mr Green added that many large companies were investing too much time and money in patent disputes.
Google has yet to comment.