CES 2013: Can Japan's tech firms reverse their losses?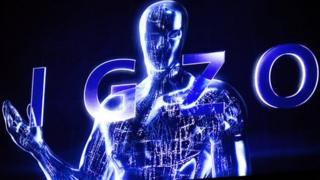 Japan's leading consumer tech firms have a lot riding on jumbo-sized ultra-high definition TVs, a new energy efficient screen technology, water resistant smartphones and a revamped smart TV interface.
Sony, Panasonic and Sharp saw their stocks plunge to 30-year lows in 2012 after racking up huge losses.
This financial year only Sony forecasts a return to profit. By contrast Panasonic predicts it will sink 765bn yen ($9.6 billion; £6bn) deeper into the red - for context that's on a par with power company Tepco's loss after the Fukushima nuclear plant meltdown - while Sharp has said there is "material doubt" about its survival.
The strong yen, a territorial dispute that led to an unofficial Chinese boycott of Japanese goods and hefty restructuring costs are partly to blame.
But one Tokyo-based consultant highlights a fourth key factor - strong competition from Samsung and LG.
"They are far more aggressive, they are moving much faster and their price structure is better," says the Eurotechnology Japan consultancy's Gerhard Fasol of the South Korean firms.
Against this backdrop the Consumer Electronics Show (CES)'s press day offered a rare chance to hear from all three Japanese companies how they planned to return to health,
Next-gen screens
Sharp's chairman, Kozo Takahashi, set the tone highlighting an "ability to innovate" as being key to a turnaround.
Much of the following presentation was dedicated to the company's Igzo screen technology.
The acronym refers to indium gallium zinc oxide, a compound the firm says is much better at letting each pixel's light through a screen than the material used in standard TFT (thin film transistor) LCD displays.
As a result it can offer power savings of 80 to 90% over the older technology with the added benefit that it continues to display an image after the power has been switched off.
Sharp has already used the tech to produce a smartphone which it says can last almost two full days of use before needing a charge, and a tablet which it says offers up to three times the battery life of the competition.
But the success of the innovation will depend on Sharp convincing other device makers to adopt the technology.
In the meantime the company's other focus is supersize LCD screens - popular in the US and Japan - including a new 90in model.
Smart TV upgrade
Panasonic began its presentation acknowledging it faced "challenging times", but added that in the past such problems had only made it stronger as it had had to deliver products offering a "more convenient customer experience".
The core example it highlighted this time was the addition of a My Home Screen function to its Viera smart TVs.
Top-end units will use in-built cameras to identify each user so as to launch up a tailored welcome page collating their favourite TV shows, webpages and other personal content.
Other innovations included easier access to YouTube videos and the ability to send content from a phone or tablet to the TV screen and edit it there with a touchpen.
If that all seems less ambitious than Sharp's approach it maybe because Panasonic's focus is switching from gadgets to less other categories such as solar panels, car batteries, and LED lightbulbs.
And while TVs are still a major part of its business, increased reliance on third-party components limits its ability to do something more radical.
"They were able for many years to differentiate on plasma-based technology, which they did have a strong leadership in, but that market has very much eroded," says Tom Morrod, an analyst at IHS Technology.
"In LCD technology, because Panasonic does not have much manufacturing power, they do not have the opportunity to innovate on screen tech which is the main differentiator for most of the top brands - they're buying the same stuff as others have.
"So they are trying to find other messages to market around, and one of them is smart TV. But I have yet to see a huge amount of compelling technology and I think its a difficult sector to mark yourself out in."
Joined-up Sony
Sony, on the other hand, is firmly pinning its revival on consumer-focused devices.
Its presentation, led by new boss Kazuo Hirai, was the most polished of the three with the one exception of a prototype TV which was supposed to be the grand finale. Instead of showing a picture combining the detail of ultra-high definition with the vibrancy of OLED (organic light-emitting diode) pixels, the audience were treated to a Windows error message.
But putting that aside, Sony's core message was that its various units were finally fully sharing their technologies rather than working in silos.
An example is its new Xperia Z smartphone which adopts photo tech developed by Sony's digital camera division and video enhancement software created for its Bravia TVs.
The firm is also pushing hard to be a leader in the roll-out of devices supporting the 4k standard.
These include TVs, a camcorder, and a "distribution service" which will launch in the US this summer making new and remastered classic movies owned by Sony Pictures available in the format. Details of how the facility will work are still to be disclosed - streaming such high resolution footage would be taxing on all but the fastest broadband connections.
But it was perhaps most telling that the voiceover of the video that rounded off the event said: "We used to make people say wow all the time... we forgot the power of that for a while."
Look out
Sharp, Panasonic and Sony all hope that by driving forward different technologies they will find success. But according to Eurotechnology Japan's Mr Fasol they must also keep sight of the big picture.
"Innovation alone is not the whole story," he says. "You also need to have much faster decision making and much more diversity in both management and ideas.
"It's been said that Samsung makes what customers want and Japanese companies have made what they want to make and then hope people buy it."
The firms must now wait to see if their technologies find favour beyond their labs and CES's showrooms. After so much damage to their balance sheets they can't afford to get it wrong again.