CES 2013: Enormous TVs clamour for attention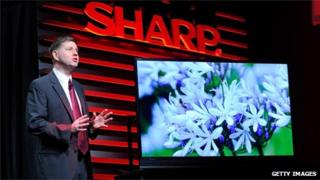 Bigger, better and sharper televisions were on show ahead of the official opening of the 2013 Consumer Electronics Show (CES) in Las Vegas.
Electronics giant Sharp showcased a slew of enormous screens, including a 90in (230cm) LED model said to be the biggest of its type in the world.
South Korean firm LG unveiled its laser TV technology which can project a 100in high-definition screen.
Also on show was LG's OLED screen which will go on sale in the US in March.
The 55in television - which was first unveiled at last year's event - will cost $12,000 (£7,500). OLED has been criticised by some for being too expensive, and too difficult for manufacturers to scale up.
All of the televisions on show demonstrated "smart" capabilities - that is, the ability to surf the internet and access various services such as Skype or Netflix.
LG's laser TV, named Hecto, can display the full screen from just 22in from the intended surface.
This is in stark contrast to existing technology which requires the projector to be placed much further away - usually with the help of a large stand or ceiling installation.
At its event, Sharp shared more details of its "Igzo" technology - which stands for Indium Gallium Zinc Oxide, a compound material that is said to be more responsive to touch.
It is also said to be more energy efficient, consuming so little power it is able to remain on for a considerable time after it has been powered down.
The Igzo technology is being utilised in a range of new models, including a 32in ultra-high resolution monitor that has a multi-point touch screen - said to be ideal for high-end graphic design.
Continuing a trend set at this event last year, Sharp also demonstrated its range of 4K models - including one screen which utilises technology inspired by the naturally anti-reflective qualities of a moth's eye.