CES 2013: Chinese enter Western mobile device market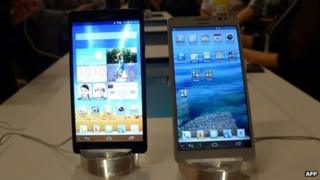 Chinese electronics firm Huawei has launched two major mobile devices as it looks to muscle into Western markets.
Huawei's Ascend Mate device has a 6.1in (15cm) display that puts it squarely in competition with Samsung's Galaxy Note.
The company also unveiled the Ascend D2, which has higher screen resolution than Apple's iPhone 5.
Huawei is one of several Chinese companies expanding their presence at this year's Consumer Electronic Show (CES) in Las Vegas.
Telecommunications equipment provider ZTE also has a large presence, and is expected to announce its own new smartphone on Tuesday.
Elsewhere at CES Las Vegas, another Chinese company, HiSense, occupies the floor space previously home to Microsoft, which pulled out of this year's show.
'Security threat'
Huawei is a well established player in global technology. But in 2013 the company hopes to transform itself from a behind-the-scenes technology provider - powering infrastructure, for instance - into a recognisable consumer brand.
In doing so it faces a public relations challenge: the US government in October branded the company a "security threat".
The US government says it fears Huawei equipment could be used unlawfully to monitor communications and other activity.
Washington has made the same warnings about ZTE, suggesting that US companies steer clear of the firm.
Political battles aside, Huawei and ZTE face a uphill climb to win over consumers unfamiliar with the companies.
The Ascend Mate fits into the busy but still up-for-grabs market for "phablets" - devices sized between a smartphone and a tablet.
The Ascend D2 smartphone features a 13-megapixel camera - the iPhone 5 has eight - and up to two days' battery life. It is also marketed as waterproof - it was doused in a jug of water during the on-stage demo.
Both of Huawei's new devices run on Google's Android mobile operating system and are expected to be released globally in March.
"2013 has real potential for Huawei to move from being a budget choice to a genuine challenger," said Dominic Sunnebo, global consumer insight director at Kantar Worldpanel ComTech. "Our research shows that consumer brand preference for Huawei is low in developed markets - below 1% in US and Germany; however these three new handsets show they are setting their ambitions are far higher."
"Clearly they have done their research," he said. "All the new handsets have very large batteries. Poor battery life is the number one issue for smartphone owners, with 54% listing it as their top complaint - addressing this should be a winning factor with consumers.
"The one area of concern would be for the Huawei 6.1-inch Ascend Mate," he said. "Bigger screen sizes are becoming more popular, demonstrated by the success of the Samsung Galaxy Note,
"However for a relatively unknown brand to push the size barriers this far is a risk," he added. "Samsung invented the 'phablet' category armed with a serious marketing budget, and unless Huawei follow suit this is likely to remain a niche product. We think the Huawei Ascend D2 is more likely to be a hit with consumers. "