Toyota sneak previews self-drive car ahead of tech show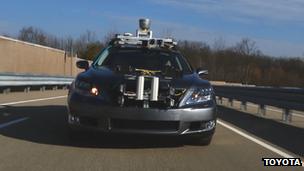 Toyota has given a taste of self-drive car safety technology ahead of the Consumer Electronics Show (CES) in Las Vegas next week.
The car maker revealed a video clip of a Lexus fitted with safety features designed to minimise car crashes.
The technology includes on-board radar and video cameras to monitor the road, the surroundings, and the driver.
The car can also communicate with other vehicles, according to a Toyota spokesman.
"We're looking at a car that would eliminate crashes," said the spokesman. "Zero-collisions is our ultimate aim."
The video shows a prototype Lexus LS fitted with what Toyota's described as an "Intelligent Transport Systems" (ITS) technology.
The "advanced active safety research vehicle" prototype uses ITS and existing Toyota technology to monitor whether the driver is awake, to keep the car on the road, and to stop at traffic signals. The technology is designed to be used in conjunction with a driver, but the car can control itself, said the spokesman.
A series of optical beacons on the roadside can detect the positions of pedestrians and obstacles, and relay information to the prototype about whether a traffic light is red or green, as part of ITS. The car can also independently monitor pedestrians' positions.
"Not the Jetsons yet, but our advanced active safety research car is leading the industry into a new automated era," Toyota said in a Tweet on Thursday.
Toyota has also developed technology that lets a car communicate with a driver's smartphone to offer augmented reality features. This would let the car know about places by the road letting it, for example. recommend an upcoming restaurant, said the spokesman.
Toyota is one of several heavy-weight car manufacturers and technology companies researching autonomous vehicles.
Self-driving cars could drastically improve road safety, according to Prof Paul Newman, who heads an Oxford University autonomous car project project.
"Computers will be ever vigilant. They don't get distracted," Prof Newman said on Friday.
Car systems can be engineered so that a systems failure will not result in a crash, he added. Prof Newman's Wildcat project aims to use lasers and radar to make a car "sense" its surroundings.
Related Internet Links
The BBC is not responsible for the content of external sites.