New Year Honours list recognises UK tech visionaries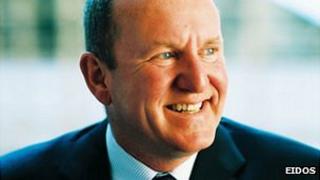 Video games legend Ian Livingstone, Lastminute.com co-founder Martha Lane Fox and Imagination Technologies' boss Hossein Yassaie all feature in the New Year Honours List.
Mr Livingstone, life president of Eidos and co-creator of the Fighting Fantasy books, is being made a CBE.
Ms Lane Fox - who now acts as the prime minister's digital champion - receives the same recognition.
Sir Hossein is being knighted "for services to technology and innovation".
Over the past two decades he has helped build up his computer chip-designing company from about 40 employees to 1,300 and a market valuation of over £1bn.
Video game campaigner
News of Ian Livingstone's honour coincides with his 63rd birthday.
It also comes just over 30 years on from The Warlock of Firetop Mountain's release - the first in a series of role-playing game (RPG) books which he helped write. Readers were asked to make choices or roll dice to determine which page they would turn to next, creating the storyline.
The format influenced many video game makers, and Mr Livingstone himself went on to found Eidos Interactive - publisher of the Tomb Raider and Deus Ex games.
"I'm genuinely humbled to get something," he told the BBC.
"My life has been all about games, and I think we learn an awful lot through play.
"Writing Fighting Fantasy books with Steve Jackson in the 1980s seemed to have got a whole generation of children reading again. And I'm delighted that what we created not just manifested itself in interactive books but it's actually inspired people to join the computer games industry."
Mr Livingstone takes a back seat at Eidos these days - it is now controlled by Japanese gaming giant Square Enix - but he continues to wield influence.
Earlier this year he co-authored "Next Gen" - a report highlighting the "poor quality of computer teaching" in the UK's schools.
It helped convince UK Education Secretary Michael Gove to order an overhaul of information and communications technology (ICT) classes in England to give a key role to programming.
"It's so much better to teach children to create technology rather than just being passive users of it," said Mr Livingstone.
"At the moment ICT does nothing more than simply teach children what are effectively office skills. We teach them effectively how to read but not how to write.
"If we get them to code that's brilliant - it's not just about writing games. It's fighting cybercrime, and about creating the next jet propulsion engine."
Digital crusader
Martha Lane Fox launched Lastminute.com in 1998 with her business partner Brent Hoberman.
Running the holiday, entertainment and gift site proved a bumpy ride.
Its stock market listing was quickly followed by the dot com crash. But Ms Lane Fox remained managing director until 2003, only resigning after her firm had reported its first year's full profit.
She said she wanted a new challenge.
This involved becoming patron of several charities, and in 2009 her appointment as the Labour government's "digital inclusion champion". The brief was to make the public more "tech savvy" and help people get online.
The following year the new coalition government expanded and rebranded the role, making her the UK digital champion.
Ms Lane Fox went onto to spearhead October's introduction of gov.uk - a single domain collecting together various government websites. Its aim is to make it easier for the public to access services while saving the country millions of pounds in running costs.
The honours list says she is recognised for voluntary services to the UK Digital Economy and to charity.
"I am so lucky to have been working as digital champion for the last three years," she told the BBC.
"Spreading digital skills is vital for the UK and I am delighted that our work has led to the creation of both the government digital service within the Cabinet Office and the charity Go On UK."
Graphics powerhouse
Sir Hossein moved from Iran to the UK in 1976.
Wanting to go to university he was frustrated to discover he needed A-Levels first - a problem he overcame by completing his courses and exams in just six months.
After studying at Birmingham University he worked on chip architectures in Bristol before joining Hertfordshire-based Imagination Technologies in 1992.
Six years later he became the firm's chief executive and has helped it grow into a FTSE 250 company.
The firm licenses, rather than manufactures, most of its inventions.
It may not be a household name but some of the products that use its PowerVR GPU (graphics processing unit) designs are Apple's iPhones and iPads; various Samsung Galaxy handsets and tablets; and a range of devices from Sony and LG.
Sir Hossein says that over one billion products have shipped with his firm's technologies inside, 300 million of those in the last year alone.
"Clearly the UK is not a strong place for 'brand' companies," he told the BBC.
"A lot of top brands out there are either American, or Japanese or Korean. But what the UK is very good at is creating technologies and know-how that is needed for these products.
"I certainly hope that going forward the country can do better in other parts of the food chain. But certainly in underlying technologies I think the UK is the leading country in terms of providing intellectual property and technology for a lot of the new things that are happening around us."