Golden Eye porn producer seeks to widen piracy blitz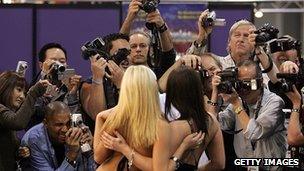 A pornographic film-maker has revealed plans to chase more internet users for compensation for pirating others' adult movies.
The move follows a Court of Appeal ruling which overturned a previous block on Golden Eye offering its services to other rights holders.
It keeps about 75% of all payments.
Spokesman Julian Becker - who funded the case - said he now planned to travel to the US to offer to enforce local firms' copyrights in the UK.
"I look forward to travelling to adult conferences in Los Angeles and Vegas in early January to offer Golden Eye's services to other producers," he told the BBC.
The court ruling brings to an end a legal dispute between Golden Eye and the Open Rights Group (ORG).
The digital rights campaign group had challenged the company's right to make internet service provider (ISP) O2 reveal the names of thousands of suspected copyright infringers.
An initial ruling went in ORG's favour saying that while Golden Eye could see the details of about 2,800 people suspected of illegally downloading its own movies, it had no grounds to pursue individuals who had accessed other production companies' material - despite its business arrangement with them.
The judge said that to permit such an agreement "would be tantamount to the court sanctioning the sale of the intended defendants' privacy and data protection rights to the highest bidder".
He added that if the other film makers wanted "redress" they would have to pursue the suspected pirates themselves.
Golden Eye appealed the judgement, and last Friday the Court of Appeals ruled in its favour.
"It was both illogical and inconsistent for the judge to deny the self-same relief to the other claimants merely because they have chosen to pursue their claims with the assistance of Golden Eye under arrangements which the judge had previously found to be both lawful and not part of a speculative invoicing scheme," wrote Lord Justice Patten.
Mr Becker said he now intended to contact alleged infringers - identified by internet addresses linked to file-sharing activities - in the New Year.
Recipients will be told they are suspected of accessing one or several adult films via peer-to-peer networks and will be invited to negotiate a lump sum payment.
Golden Eye had originally indicated it wanted to demand a £700 penalty, however this was blocked on the grounds that the sum was "excessive".
The Open Rights Group expressed concern at the appeal's verdict.
"Such a decision effectively means that someone who themselves has no interest in a claim can acquire personal details to obtain large sums of money," it said.
"In this case Golden Eye are not a firm of solicitors, and thus are not regulated in the same way solicitors are."
However, Mr Becker suggested that opposition to his actions might be based on the distaste some had for the pornographic industry,
"Adult content is legal in the UK and should be given the same rights as mainstream films," he told the BBC.
"However, in reality, I believe there is always going to be a bias against this genre of film production.
"85% of computers exhibit porn history, although 90% of users will preach against it. This makes me wonder, if Golden Eye represented the interests of mainstream producers, would there have ever been a necessity of such a long and expensive legal process?"
Related Internet Links
The BBC is not responsible for the content of external sites.