The top memes and viral videos of 2012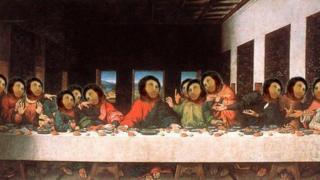 If your new year's resolution is to achieve worldwide fame and fortune - you would be wise to learn a thing or two from the stories below.
In a year which saw a YouTube video break the one billion view mark for the very first time, barely a week went by without hearing about lives changing thanks to a viral smash.
From cheap fish at a market in East London to a protest movement which influenced the US Congress, here is a selection of some of the biggest memes and viral moments of the past 12 months.
January
"Why is Tiger bread called Tiger bread?" wrote three-year-old Lily Robertson in a letter to Sainsbury's. "It should be called Giraffe bread."
The supermarket agreed, and at the end of January it renamed the stripy bread as per Lily's suggestion. "Maybe they were a bit silly," said Sainsbury's' Chris King in a reply which warmed the hearts of thousands more used to lifeless corporate speak expected of large companies.
Two proposed bills in the US, said to be designed to curb piracy, resulted in a rare consensus across much of the web - with users and major companies voicing their criticism in a co-ordinated day of action.
Students worldwide were left scratching their heads as Wikipedia shut itself down for the day, and other famous homepages like Google also "went dark" in protest at the bills known as Sopa and Pipa. Debates in the US Senate were postponed.
February
More than 30 million people watched this divisive clip uploaded by North Carolina dad Tommy Jordan.
Angered at a Facebook post by his daughter Hannah, Mr Jordan recorded himself as he took a pistol to his teen's recently repaired laptop. After putting several bullets through the machine, he returned to his seat to tell his daughter: "You can have a new laptop when you buy a new laptop."
Days after posting the video, Mr Jordan said he had offers to create a TV show, and had been visited by local police, who apparently gave him "kudos". It is not known if Hannah is still grounded.
March
Few videos over the past year were as powerful - or had such an immediate impact - as Kony 2012.
Created by filmmakers Invisible Children, it told the story of Joseph Kony, a Ugandan war criminal and fugitive.
With the backing of several high profile celebrities, the video wanted to put pressure on the US government to step up efforts to arrest Kony by the end of 2012.
The video was back in the headlines for the wrong reasons in March when Invisible Children co-founder Jason Russell was found in the street semi-naked and screaming at traffic. His family said he was suffering from "reactive psychosis" brought on by the publicity the film had generated.
April
When Zeddie Little was accidentally snapped while completing the 2012 Cooper River Bridge Run, he couldn't possibly have known the impact it would have on his life.
Billed as "Ridiculously photogenic guy" on social news site Reddit, the handsome 25-year-old rocketed to fame. Appearing on US television show Good Morning America, Mr Little said: "I really don't know, but I kinda feel honoured to be part of a joke that's in good spirit because sometimes the internet can be a little vicious or jokes can get bent the wrong way."
Meanwhile, at Queens Market in East London, Muhammad Shahid Nazir was busy doing what he did best: attracting customers to his fish stall by singing his catchy tune One Pound Fish.
Captured by YouTube user Colin Miller, Mr Nazir's refrain of "Come on ladies, come on ladies, one pound fi-i-i-ish!" has gone global. Released as a single, the song reached number 29 in the UK chart.
However, after his visa expired, Mr Nazir was deported back to Pakistan - where he received a hero's welcome when hundreds of fans greeted him at Lahore airport.
May
On 8 May, 9-year-old Martha Payne posted a picture of her lunch. An unremarkable event, by the internet's standards, but soon Martha's blog posts showing pictures - along with her critiques of her school's food - were attracting a massive audience.
But it was when the local council told Martha she wasn't allowed to blog anymore that her fame went stratospheric. Amid calls of unfair censorship, and with the help of social media, Martha's fans eventually raised well over £125,000 ($200,000) for the charity Mary's Meals.
In October, Martha travelled to Malawi to see the opening of a kitchen built with the money she had raised.
June
Twenty-one-year-old Laina Morris is every guy's nightmare girlfriend - or at least, that's how the meme goes.
The Overly Attached Girlfriend craze was born after Laina posted a video of herself singing along to Justin Bieber's song Girlfriend, but with altered lyrics detailing the lengths she would go to in order to keep an eye on her man.
She now uses her internet fame to raise money for good causes, carrying out video challenges in return for charity donations.
July
No wrap-up of 2012 viral hits could be complete without a mention of Gangnam Style. The K-Pop smash became the first to surpass one billion views on YouTube, as well as reaching number one in music charts all over the world.
After going viral in July, Gangnam Style broke records with ease. Artist Psy toured the world with the song - and even appeared at the prestigious Oxford Union.
In a speech, he said: "My goal in this music video was to look uncool until the end. I achieved it."
It spawned a number of parodies, with one notable example being this effort from pupils at Eton.
Also getting the parody treatment was Carly Rae Jepsen's Call Me Maybe.
Kicked off by Justin Bieber, Call Me Maybe was covered by everyone from the USA Olympics swimming team, and a bearded man in a wig and bikini.
August
Although originally released in 2011, it wasn't until 2012 that Gotye's Somebody That I Used To Know hit mainstream success.
On 12 August, the musician posted a video containing a cleverly constructed montage of tribute and cover videos posted by his fans.
They included the spirited efforts of Staten Island, New York-based choir PS22.
Unlike Gotye and his fans, artistic talent was beyond the reach of Cecilia Gimenez, an elderly church worker at the Sanctuary of Mercy Church near Zaragoza, Spain.
Her suspect restoration of Ecce Homo (Behold the Man) by Elias Garcia Martinez devastated art enthusiasts - but delighted internet pranksters.
September
"The internet is made of cats," goes this quirky song, and with sites such as ICanHazCheezburger attracting millions of hits, it is hard to disagree.
The latest superstar cat, following in the paw steps of Maru, the surprised kitty and Simon's cat is this forlorn-looking feline, nicknamed - fittingly enough - Grumpy Cat. Images of Grumpy Cat first appeared on social news sites Reddit and they soon hit its front page.
In real life known as Tard (which is short for Tardar Sauce), the meme-inspiring moggy now has a dedicated tumblr account, a site showcasing her video appearances and a Twitter feed. Not to mention all the unofficial social media accounts and memes Tard has inspired.
Despite Tard's appearance she is not actually grumpy, claim her owners - she was just born looking like that.
October
Daredevil sky-diver Felix Baumgartner was the talk of the web but not because a video captured him falling over or saying something foolish. Instead, it was Baumgartner's record-breaking sky dive from a capsule 39km (24 miles) above the Earth that provoked chatter.
During the stunt he reached a top speed of Mach 1.24 (834mph/ 1,342kph) and the feat scored a series of records including the first human to surpass the speed of sound unaided; the highest manned balloon flight and highest altitude jump.
He also set a record for the highest number of people (eight million) watching a live stream of an event as the whole stunt was shown on YouTube.
November
At the 2012 London Olympics, US gymnast McKayla Maroney won a silver medal for her performance in the vault. Good enough for most of us, but not quite enough for Ms Maroney. Perhaps because taking second place ended her domination of the event, pictures of her on the podium revealed how unimpressed she was with her performance.
It was a pose the web quickly got to work on and it bubbled under all year among meme-makers. It got a big boost when the US Olympics team visited Barack Obama in the White House during this month. In that meeting, Ms Maroney posed with Barack Obama, both sporting the disappointed pursed-lip look.
Also this month an act of kindness by New York patrolman Lawrence DePrimo became a hit. Rather than pass by a homeless man, Officer DePrimo talked to him, found out his shoe size and bought him a pair of boots to help keep out the intense cold.
December
The biggest viral video so far this month was a short clip that everyone who saw it wanted to be true but couldn't quite believe. It was a film shot supposedly in Montreal that caught the shocking moment when a golden eagle swooped down and snatched up a toddler.
In the video, the eagle carried the child only a few yards before dropping the boy unharmed. On YouTube the clip has now racked up almost 40 million hits.
Soon after it emerged that the video was a hoax - sort of. It was a film produced by film students studying 3D animation and digital design.