.cymru beats .scot to early internet address name review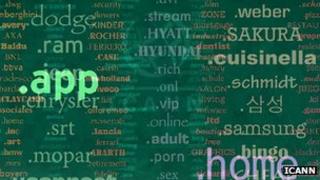 Proposed net address endings .tattoo, .transformers and .menu are among the first that could go live next year.
A raffle by regulator Icann has placed them near the top of the list of applications it will review.
Of the proposed new geographic suffixes, Wales's .cymru will be one of the first to be evaluated. However, .scot and .irish are likely to have to wait until 2014.
The first domains to go live could enjoy an early-mover advantage.
The list of 1,917 generic top-level domains (gTLDs) applications was determined by the order tickets were randomly pulled out of drums at a hotel in Los Angeles on Monday.
Companies were charged a $100 (£62) fee for each application they they wanted in the draw.
In some cases they decided not to take part. As a result several of Google's submissions will be among those last to be judged.
Same names
An early evaluation is not an absolute guarantee a suffix will go live early.
Governments have lodged "early objections" to more than 250 of them - meaning the proposed address may be rejected.
In addition, several companies are competing for identical gTLDs.
So, for example. Amazon's application for .play is near the top of the list. But it faces having to wait for a submission for the same name from Star Registry - which is 1,792nd in order - to be reviewed and a potential auction held if both are approved before the suffix can be activated.
Icann's raffle did not go without glitch. At one point a live feed of the event failed causing the organisers to temporarily halt the process to ensure it remained transparent.
The event ended up lasting more than nine hours - significantly longer than planned.
Tickets for about 100 non-Latin applications were picked from the drums first, placing a submission for the equivalent of .church in Chinese from the Vatican at the top of the list. It was followed by the Japanese for .store by Amazon.
Of the English-language proposals, unique applications set for an early review include .delmonte from the American food company; .mormon from a firm called IRI Domain Management; .fiat from the car company; and .joy from Amazon.
First movers
Businesses and other users will be able to apply to run websites using the new address suffixes in cases where the new owner decides it does not want to restrict its use.
They will be able to do so so by applying to domain name registration services which will act as middle-men, charging a fee which will be shared with the owner.
One UK-based registrar said that the initial new gTLDs to go live would benefit from their early start.
"Those that go first will get a lot more marketing opportunities," Kelly Salter from names.co.uk told the BBC.
"At the moment there are relatively few extensions to choose from that give you global coverage - so there is the opportunity to get great exposure.
"But if you're number 500 to be approved, our customers will have become desensitised by that point. So the impact to domains launching towards the end of the process will be that they have to work harder to make people want to use them."
Icann has said it plans to let the first batch of new gTLDs in May 2013.
Ms Salter said after the launch date she expected about 20 would be released each week with the final ones going live before the end of 2014.