SpongeBob app pulled over children's privacy complaint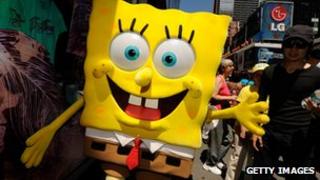 A SpongeBob app became the latest game to be pulled following a complaint it had violated children's privacy rights.
Nickelodeon removed SpongeBob Diner Dash from Apple's iTunes app store after a US advocacy group contacted the Federal Trade Commission (FTC).
The Center for Digital Democracy said children's email addresses had been collected without parental consent.
Nickelodeon has denied the allegation that it breached children's online privacy rules.
Last week another children's app, Mobbles, was temporarily pulled after the CDD filed a similar complaint.
'Deceptive'
The Washington DC-based group urged the FTC to investigate Nickelodeon and mobile game-maker PlayFirst's privacy practices.
It said their "deceptive" mobile marketing technologies had violated the Children's Online Privacy Protection Act (COPPA).
"The SpongeBob Diner Dash game asks children to provide a wide range of personal information, including full name, email address, and other online contact information, without providing notice to parents or obtaining prior parental consent, as required by the Children's Online Privacy Protection Act," a statement said.
"Nor does the app provide an adequate description of the personal information it collects or how it is used".
The advocacy group said the app's use of technologies such as unique device identifiers (UDIDs) allowed companies to send customised messages to individual children in the form of "push notifications" that required online contact information - considered personal information under the COPPA rules.
The app is free to download, but is designed to encourage users to buy virtual "coins" that can be spent on items for SpongeBob like shoes or a frying pan, or to buy upgraded versions of the game.
Nickelodeon said that an initial investigation of the mobile app found that no names, email addresses or other personally identifiable information were collected.
"Therefore, we believe that no violation of COPPA occurred," it said in a statement.
Need for informed choices
Laura Moy, a lawyer at Georgetown Law's Institute for Public Representation, which prepared the complaint on behalf of the Center for Digitial Democracy (CDD), said: "It is disturbing to learn that a well known children's brand such as Nickelodeon is flouting basic privacy protections for children. Even more troubling, Nickelodeon tells parents that it complies with the law protecting children's privacy when it does not."
Last week the game Mobbles, in which children collect and care for virtual pets, was temporarily pulled from the Apple App store and Google Android Play store.
The FTC last week published a report on mobile apps for children that showed parents were not being provided with information about what data an app collected, who would have access to that data, and how it would be used.
The report said that nearly 60% of the apps examined by the FTC were transmitting information about a user to an advertiser or other third party.
FTC Chairman Jon Leibowitz said: "While we think most companies have the best intentions when it comes to protecting kids' privacy, we haven't seen any progress when it comes to making sure parents have the information they need to make informed choices about apps for their kids."
"In fact, our study shows that kids' apps siphon an alarming amount of information from mobile devices without disclosing this fact to parents," he added.
"All of the companies in the mobile app space, especially the gatekeepers of the app stores, need to do a better job. We'll do another survey in the future and we will expect to see improvement."