'Stalking apps' could be banned in US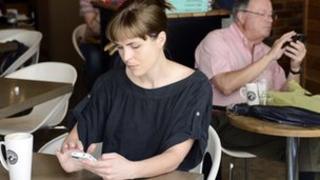 A US politician campaigning for tighter restrictions on location tracking via mobile devices has had his bill approved by a Senate committee.
The Location Privacy Protection Act would require firms to get customers' permission before collecting location data or sharing it with third-parties.
It would also outlaw apps from collecting or sharing location data without the consent of the owner.
Parents wishing to monitor their children's phones would be exempt.
"I believe that Americans have the fundamental right to control who can track their location, and whether or not that information can be given to third parties," Senator Franken told The Hill's technology blog.
"But right now, companies - some legitimate, some sleazy - are collecting your or your child's location and selling it to ad companies or who knows who else."
Stealth software
Some apps are actively marketed as spy software. They can record and email all smartphone activities - including GPS locations - to the software owner, while remaining invisible to the owner of the phone.
Their developers maintain the products are designed to protect children and allow employers to monitor their staff behaviour in work time.
"It's really, really troubling that an industry would see an opportunity to make money off of strengthening someone's opportunity to control and threaten another individual," Karen Jarmoc, executive director of the Connecticut Coalition Against Domestic Violence told AP.
Under Senator Franken's proposals apps like this would be illegal without the phone owner's explicit consent.
However, David LeDuc, senior director of public policy at the Software & Information Industry Association believes that a voluntary "code of conduct" on data collection would be more beneficial to the sector than new legislation.
"This flexible, consensus process is better able to ensure that policies are not technology or platform specific," he wrote in a blog post last week.
"At a time of increasing convergence, where "applications" are seamlessly offered across a wide range of devices, fixed laws such as this would stifle technological evolution by creating a distinct privacy regime based on a specific type of device."