Demo plan to aid god game funding drive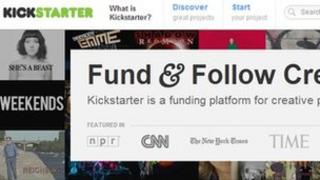 A struggling video game project on crowdsourced funding website Kickstarter is planning to release a demo to drum up support for its pitch.
Project Godus launched on 21 November seeking £450,000 in 30 days to produce a modern update of a "god-game".
In such games players are the divine power overseeing virtual people inhabiting an artificial world.
Despite backing by UK gaming legend Peter Molyneux, Godus needs to raise almost £160,000 in seven days.
The playable demo should be available on 14 December, said Mr Molyneux in an interview with tech news site Ars Technica.
The demo would give players a taste of the godly powers players enjoy by letting them mould the landscape and see how the rest of the virtual world reacts, he said. He also admitted the code was "not the most beautiful piece of computer interaction ever".
Early video of the demo has also been released by 22 Cans, the game studio Mr Molyneux founded to put Godus together.
The stress of raising almost 40% of its funding in a week had left Mr Molyneux "sitting in a corner shaking slightly with fear and trepidation", he told Ars Technica. He said he hoped the demo would be enough to get people pledging cash so 22 Cans can complete work on the game.
Mixed success
Mr Molyneux is widely seen as the creator of the god-game genre having pioneered it in a title called Populous. He was also behind later examples such as Dungeon Keeper and Black and White.
Many game firms have turned to Kickstarter to raise funds for gaming projects, saying they prefer to appeal to the public for cash rather than go to an established publisher.
However, games have enjoyed mixed success on the site. Some, such as Star Citizen, raised far more than they asked for but many others have failed to hit their targets.
Other UK games makers are finding it tough to raise cash via Kickstarter. Elite Dangerous, a reboot of the classic space trading and fighting game backed by its original creator David Braben has 21 days to raise almost 40% of its ambitious £1.25m goal.
In a worse position is Dizzy Returns, a recreation of the classic games that featured an adventuring egg also backed by its creators, that has seven days to raise more than £300,000.