Apple Maps 'is life-threatening' to motorists lost in Australia heat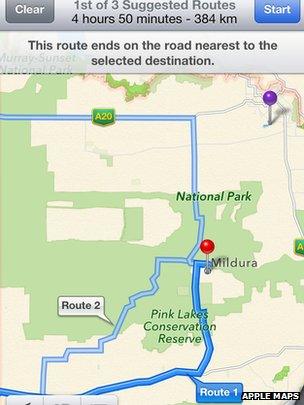 Inaccuracies in Apple Maps could be "life-threatening" to motorists in Australia's searing heat, police have warned.
Officers in Mildura, Victoria, say they have had to assist drivers stranded after following the software's directions.
Some of the drivers had been without food or water for 24 hours.
Apple's software was heavily criticised by users when it was released in September.
Last week, chief executive Tim Cook admitted Apple had "screwed up" and was working to improve the program.
In a press release, Victoria police's acting senior sergeant Sharon Darcy made her force's concerns clear.
"Tests on the mapping system by police confirm the mapping systems lists Mildura in the middle of the Murray Sunset National Park, approximately 70km [45 miles] away from the actual location of Mildura," she said.
"Police are extremely concerned as there is no water supply within the park and temperatures can reach as high as 46[C], making this a potentially life-threatening issue."
The force advised travellers to use an alternative mapping service until the issues had been fixed.
In September, Apple dropped Google Maps from its iOS software in favour of its own mapping program. However, users were quick to complain it contained many inaccuracies, poor imagery and unreliable directions.
The company defended the software at first, telling users it was "confident about our map quality".
However, Apple soon backtracked, posting an apology notice on its website.
"We are extremely sorry for the frustration this has caused our customers and we are doing everything we can to make Maps better," said Mr Cook.
A specially created section on the App Store highlighted alternative mapping software. However, an app for Google Maps has yet to be made available - although some reports suggest one is in its testing phase.
The fall-out from Apple Maps saw high-profile senior executives leave the company.
Apple's mapping woes come as researchers at Carnegie Mellon University warned about newly discovered vulnerabilities in the world's Global Positioning System (GPS).
The research paper suggested that just $2,500 (£1,500) of equipment could be used to knock out 30% of systems supporting "safety and life-critical applications".
The researchers proposed "defences such as hardening GPS software against RF [radio frequency] and network attacks, as well as an attack detection system".
They added: "Until GPS is secured, life and safety-critical applications that depend upon it are likely vulnerable to attack."