Spotify: Metallica ends Napster feud with new deal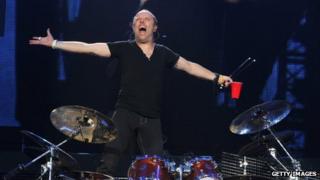 Metallica has announced its entire back catalogue is to be made available on music streaming service Spotify, ending a 12-year feud with Napster co-founder Sean Parker.
Drummer Lars Ulrich appeared on stage with Mr Parker, a Spotify investor, to discuss their bitter legal battle that took place in 2000.
Spotify also announced a range of new features for its service.
It said it now had more than 5 million paid subscribers worldwide.
The UK-headquartered company said it had paid out over $500m (£311m) to record labels since the service launched. It has 20 million active users.
It announced the ability to "follow" influential artists and their tastes. Among the artists and personalities signed up to the "follow" feature are the likes of Justin Bieber, Paul McCartney and US President Barack Obama.
Chief executive Daniel Ek showed off other features designed to aid in discovering new music, and added that the service's browser-based client, which is currently being tested, will be released next year.
Spotify's browser strategy - which allows a user to listen to music within a tab of their browser like Chrome or Firefox - is considered key for the company to gain users from rival sites like Deezer that already offer a full browser-based service.
Piracy boom
As co-creator of peer-to-peer music pioneer Napster, Mr Parker is considered to have been instrumental in fuelling the online music download boom - and the boom in music piracy.
The metal band Metallica sued Napster in 2000 on copyright infringement claims, and Napster was forced to remove users who had downloaded the band's music.
The battle divided the music industry, with Metallica receiving criticism from some music lovers who felt they were wrongly targeting their own fans.
Mr Parker told the audience at the event that Napster acted in good faith, and regretted the dispute.
"Back in 1999 we were depicted as these greedy pirates that basically were just trying to create a free-for-all and enable the stealing of music," said Mr Parker. "We just wanted to make music more free as in freedom, not free as in theft.
"When the media, led by the labels, began to mount this publicity campaign against us, we were really taken aback by it. We had no idea what we were getting ourselves into."
Napster was forced into bankruptcy, relaunched in 2011 and is now a legal music subscription site.
Back alley brawl
Mr Ulrich said the legal action happened while the band existed in a "bubble".
"When you live in a bubble the main thing you want is complete control over what you do," Mr Ulrich said.
"That was taken away. The control option had been taken away from us - and then it turned into a street fight. Let's meet them in the back alley!"
Mr Ulrich told the audience that his band now owned its back catalogue for the first time - a day it has been waiting for for over 15 years.
Mr Parker agreed with the street-fight analogy, adding that more negotiations should have taken place.
He added: "The lesson of the story is that, when you have two parties that are set up in opposition to each other, you start to think of the other person's perspective being much more polarised than it actually is."