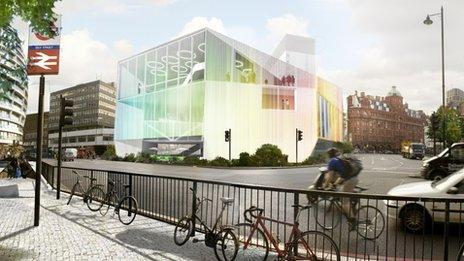 David Cameron and Boris Johnson have unveiled plans to transform Silicon Roundabout - or rather Tech City as the government likes to call it.
A number of major international firms announced new investments in the east London technology cluster , but the big news is about the roundabout itself.
The Old Street roundabout, the busy and undistinguished traffic intersection which is the focus for Tech City, is to be given a complete makeover.
What we're promised is what the prime minister described as "the largest civic space in Europe - a place for start-up companies and the local community to come together and become the next generation of entrepreneurs".
An excited Downing Street advisor tells me that this will become a focal point for the creative and technology types who inhabit the streets of Shoreditch and the fringes of the City.
"There'll be 3D printing labs, artists and designers will drop in," he explains. With the 3D printing revolution taking off, he paints a picture of a new age of digital manufacturing, starting in the London cluster but spreading out across the UK.
The pictures of the plans certainly look a lot more attractive than what is there at the moment, and Tech City could do with a landmark venue - something for television reporters to use as a recognisable image, and a place to take visiting investors to prove that there's more to the area than a few web designers getting together over a latte.
But this does not come cheap - the government is investing £50m in the new building, and what is described as the "peninsularisation" of the area around the roundabout. There will be further contributions from Boris Johnson's budget and hopefully from the private sector.
If you were a start-up technology company in a cluster elsewhere in the UK - in Dundee or Guildford or Cambridge - you might ask why yet more money and attention was being focused on London.
Mind you, the other day I asked one of the leading lights of the Cambridge technology scene whether he was jealous of the spotlight shone on Tech City. He smiled, and said Cambridge didn't really need to worry as it had lots of real hi-tech firms started by scientists, rather than what he dismissively described as the "munchkins" starting businesses in east London.
Still, Downing Street believes that the decision by the prime minister two years ago to throw his weight behind the east London cluster is already paying off.
"Berlin, Paris - they've nothing like this," I am told. The government says there has been a huge increase in the number of start-up technology firms in East London since it got involved in promoting the area.
What we have not yet seen is whether any of them can grow into the world class companies that have emerged from some of Britain's other tech clusters.