Texting SMS pioneer Matti Makkonen 20 years on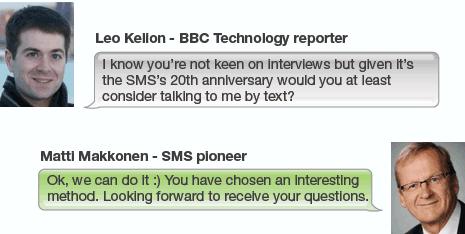 In a world first, on 3 December 1992, an engineer sent the message "Merry Christmas" from a PC to a mobile device using Vodafone's UK network.
But the origins of the idea date back further to Matti Makkonen. Over a pizza at a telecoms conference in 1984, the former Finnish civil servant put forward the idea of a mobile phone messaging service. This was to become the SMS (short message service) standard.
Dubbed the "father of SMS"- a title he dislikes because of the work others did to develop the technology - Matti Makkonen rarely gives interviews. However, he made an exception for the BBC's tech team with an interview via SMS.