Peter Molyneux seeks Kickstarter cash for god game reboot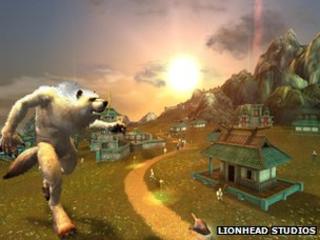 British gaming veteran Peter Molyneux has turned to Kickstarter to raise cash for an updated version of Populous.
The original started the "god game" genre, in which players act as the divine overseer of an artificial world.
The updated version, called Project Godus, will add multiplayer and have worlds that change to reflect the character of their creator.
Mr Molyneux is seeking £450,000, via Kickstarter, to get Godus ready to be launched in September 2013.
Star games
Mr Molyneux was the designer and main programmer behind the Populous PC game that was released in 1989.
Project Godus will update Populous said Mr Molyneux, on the Kickstarter page dedicated to the funding drive, but keep its core ethic of helping a population of computerised people flourish and develop using their godly powers. Kickstarter is a crowd-sourced fundraising website system in which projects seek cash from members of the public before they embark on any work.
Mr Molyneux's new game studio, called 22 Cans, will drive development of Project Godus.
Innovations seen in other games produced by Mr Molyneux, such as Dungeon Keeper and Black and White, would be used in the new god game, he said.
This would mean that the worlds overseen by good gods would gradually look more idyllic, but deities who punish and smite would produce a harsh and unforgiving environment.
As with many other Kickstarter projects, backers get a variety of rewards for pledging cash.
Those who pledge £5,000 or more will get an all expenses paid trip to gaming show E3 as a guest of Mr Molyneux.
Jim Rossignol, writing about Godus on the Rock, Paper, Shotgun PC gaming news site, said the project was an "interesting one" but added a note of caution about whether Kickstarter was the best way to revive the god game genre.
Mr Molyneux is one of many veteran game makers that have turned to Kickstarter to raise cash.
British gaming pioneer David Braben is using the site to raise money for an updated version of Elite.
Chris Roberts, who developed the Wing Commander series of games, has raised more than $2m (£1.2m) to develop Star Citizen.