Hackers attack web accounts of Israeli Vice PM Shalom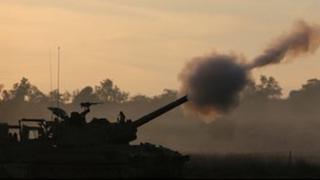 Social-media accounts, including those on Facebook and Twitter, belonging to Israeli Deputy Prime Minister Silvan Shalom have been hacked.
A group calling itself ZCompanyHackingCrew (ZHC) claimed responsibility, adding it had also accessed the politician's email.
It is the latest cyber-attack against Israel, since it launched a military offensive on Gaza a week ago.
One security analyst said taking over unprotected personal accounts was easy.
The group said it would soon release private documents it had found in Mr Shalom's personal email.
The politician's Twitter feed stayed filled with pro-Palestine status updates for several hours, including: "Who can bare to see the horror, the deaths of children and innocent people trying to protect their occupied land? STOP THE WAR #GAZA".
The hackers changed Mr Shalom's Facebook page, replacing it with an image bearing the words "Free Palestine". The page has since been taken down.
Punching someone
Graham Cluley, a consultant at security company Sophos, told BBC News anybody could be behind such attacks - even someone "sitting in his bedroom, simply thinking, 'I want to have my say on this'".
"It's always very hard to prove who was responsible, anybody can hack anything and do it under whichever flag they wish," he said.
"With hacking groups, they will often attack [personal accounts] which are easy for them to break into - maybe because of weak security or poor password choices.
"These groups know it will get them publicity - basically punching someone on the nose and causing it to bleed a little.
"So they deface websites, take over Twitter accounts, and it's a very public way of proving that you have breached someone's security."
Cyber-fights
Days after the start of the latest eruption of Israel-Gaza violence, online hacktivist group Anonymous attacked hundreds of websites in Israel, defacing them with pro-Palestinian messages or knocking them offline.
The website of the Bank of Jerusalem, of the Israeli Defence Ministry, and the Israeli President's official website were all targeted.
Anonymous said it had launched the OpIsrael campaign after threats by the Israeli government to cut all Gaza's telecommunication links.
But Mr Cluley said he would not be surprised if there were counter-cyber-attacks, targeting internet users and accounts in Gaza.
"In the past, we have for instance seen cyber-fights between hackers in India and hackers in Pakistan, so it wouldn't be a surprise if we saw Jewish hackers attacking Arabic sites and so on," he said.
"These counter-attacks aren't unusual, but it doesn't necessarily mean that they're being endorsed by the country who is engaged in the conflict."