Blackberry BBM Money app to launch in Indonesia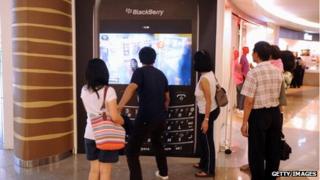 Blackberry is to enter the peer-to-peer money transfer market. BBM Money will soon allow owners of its handsets to send money to each other that can then be withdrawn from banks' cash machines. Indonesia will be first to get it - a country not typically associated with big tech launches, but it is a critical market for RIM.
Andy Zain is a self-confessed gadget geek.
"I have at least three phones, my tablet and my laptop at any point in time - but sometimes I can have up to seven devices," Andy says, beaming proudly as he shows me his beloved tools.
Like many Indonesians, Andy has long been a fan of Research in Motion's Blackberry phone.
"As an Indonesian, or if you live here, you need to have a Blackberry phone - otherwise people won't talk to you!" Andy says as he chuckles, cradling his gadgets.
"Blackberry is a working phone for me - it's where I do my emailing.
"Then my iPhone is how I consume media, and browse the internet.
"I also have an Android device - I didn't use it so much before but I am now using it more than I used to."
There's no question that Blackberry still owns the bulk of the handset market share in Indonesia.
It is thought that Research in Motion, the makers of the "BB" phone as it is known here, has more than 50% of the Indonesian market - one of the few places in the world where Blackberry is still king.
More innovation
But a recent study from the technology research group IDC suggests that Android phones - and in particular their operating system - are fast gaining ground, with their OS now owning 52% of the Indonesian market.
Research in Motion says it is not ignoring the warning signals.
The company will be launching its newest offering in 2013 in Indonesia - the highly anticipated Blackberry 10, which it hopes will recapture the hearts of its loyal fans in the archipelago.
"Indonesia is very important for RIM," Hastings Singh, the managing director of RIM's South Asia operations, tells the BBC.
"It's a huge market for us - and it is a market that has grown significantly over the last few years.
"[But] we definitely can't be complacent.
"So we are offering a new innovation - BBM Money which will be launched in Indonesia - first in the world - shortly. It is a peer-to-peer transfer service that anyone with a Blackberry phone can use to transfer funds to someone else with a Blackberry phone."
Mr Hastings says the fact that Indonesians are some of the most social people in the world and use the BBM messenger service as much as they do is one of the key reasons behind the creation of this new application.
"Indonesians spend a large amount of time communicating with their friends and family - using tools like BBM," he says.
"That's why it is a focus for us to improve upon what Indonesians really value about the Blackberry."
Android invasion?
But critics warn that Blackberry's prized BBM service is not so unique anymore.
"The uniqueness of the Blackberry is diminishing," says Sudev Bangah, the country head of IDC research - the group that published the recent study showing RIM's declining market share in operating systems in Indonesia.
"Now with Apple's iPhone you have the i-message function, you also have... all sorts of different applications that are taking away the differentiator that Blackberry used to have with the BBM."
Mobile phone vendors have also noticed that young Indonesians are rapidly changing their tastes.
At Ambassador mall, one of the most popular mobile phone shopping centres in Jakarta, you can see how Indonesian gadget lovers are increasingly spoiled for choice.
Shop keepers here say that just a few years ago, only Nokia phones and Blackberrys were on sale - but today there are all sorts of brands ranging from Blackberrys to Nokias, Samsungs, iPhones and Sonys.
"Blackberries used to be very popular," mobile phone vendor Adi Ferguson tells me, "but now they're losing out to the others because they don't come up with innovative applications fast enough.
"Samsung and the others come up with new apps almost every month. That's what young people want these days."
Still not everyone's convinced that this is the end of Blackberry in South East Asia's largest economy.
'First love'
Many big businesses are betting that Blackberry phones remain the best way to reach out to the hearts and minds of Indonesian customers.
In November, the Wall Street Journal launched a Blackberry app - the first of its kind for the media conglomerate - for its Indonesian language service site. The app is unique to Indonesia.
Lex Fenwick, the chief executive of Dow Jones which publishes the Wall Street Journal, says it was a no-brainer to use the Blackberry to reach Indonesian readers.
"We believe Blackberry seems to be the only predominant mobile carrier in Indonesia," he told the BBC in a telephone interview.
"Our research showed that people in Indonesia say they want to get their content over mobile devices and that's why we built this app.
"We are carrier-agnostic - we are just interested in getting our content to as many people as possible - and Blackberry seemed to be the most effective way to do that."
The Blackberry phone was Indonesia's first introduction to the smartphone. In many ways, it was the "first love" for many Indonesians.
For RIM, Indonesia is still one of the most promising markets on the horizon, and nothing so far has shown that Indonesians are going to lose their love for the Blackberry phones any time soon.
But the handset maker has to reinvent itself to remain attractive in a market that has become so competitive - and will only get more so, over time.