4G tests reveal patchy urban coverage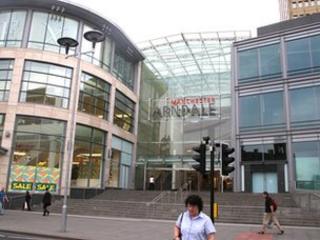 The first large-scale test of EE's new 4G network has indicated less than half of Manchester city centre is able to take advantage of its high speeds.
Data collected by mobile coverage firm RootMetrics and shared exclusively with the BBC reveals just 40.2% of its test locations had access to the 4G network.
Outside the city centre there was no 4G coverage, according to the tests.
RootMetrics also found 4G provided much faster speeds indoors, something EE's rivals had questioned when it launched.
Quick song
In test locations that had access 4G, users were getting speeds averaging 17Mbps (megabits per second), according to the survey.
Across all test locations, including those where 4G was unavailable, EE averaged download speeds of 7.6Mbps.
That is still double the average speed of the next fastest operator in the area - Vodafone - which recorded average download speeds of 3.1Mbps in previous tests.
It means that, for example, downloading a song would take less than 15-25 seconds compared with the minute or so it would take on a typical 3G network.
The survey also found:
31% of tests were achieving speeds of more than 10Mbps
9% achieved speeds of 6-10Mbps
18% speeds of 3-6Mbps
23% speeds of 1.5-3Mbps.
That left 19% achieving speeds of less than 1.5Mbps, which actually compares favourably with EE's rivals.
In previous tests, 46% of all the tests for other mobile operators performed at these low speeds, according to RootMetrics.
While the patchy coverage may frustrate users, it mirrored rollouts in the US, where deployments had typically launched with 30% to 60% coverage, said RootMetric's chief executive Bill Moore.
"Although EE's 4G service is much faster than any network currently available in the UK, our testing shows that 4G connections are not consistent even within a nominated area," he said.
"Customers need to be aware of this as there will be an expectation of blistering fast mobile internet speeds whenever they use their phones," said Mr Moore.
EE told the BBC the rollout was "ongoing".
"Every day we expand coverage," said a spokesman.
Responding later, an official statement from the mobile firm read: "RootMetrics has measured an area they choose to name 'urbanised Manchester' that is considerably larger than Manchester city centre, which we have regarded as our 4G launch zone.
In Manchester city itself, roughly inside the M60, we estimate our 4G coverage is currently in excess of 80% and increasing on a daily basis as we turn on more sites."
EE has currently deployed 4G in 11 UK cities, with a plan to increase this to 16 by the end of the year.
Indoor coverage
When EE's network launched, rivals questioned whether the spectrum band that it was using - 1800MHz - would provide good indoor coverage.
But the results suggest that it is not significantly worse - 93% of tests conducted indoors were successful, compared with 97% of outdoor tests.
The survey suggests that 4G has actually offered an uplift to typical indoor speeds.
In fact, RootMetrics found that indoor download speed was higher than its download speeds outdoors - averaging 9.7Mbps versus 8.6Mbps. The caveat to this is that the test did not separate 4G coverage from 3G.
"You would never get the indoor speeds we have seen without 4G. The figures are far in excess of what 3G is capable of on average," said Mr Moore.
Both coverage and speed tests were conducted in Manchester during November using off-the-shelf Samsung Galaxy S3's.
The firm will be testing more 4G services in other cities around the UK and the findings will be published on its website.