Icann net address endings to face government objections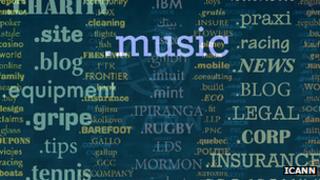 A panel representing about 50 of the world's governments is set to reveal to which of the proposed new internet name address endings it objects.
A total of 1,930 applications for new suffixes were lodged in June.
They included .bet, .islam, .gay and .news as alternatives to existing generic top-level domain (gTLD) names such as .com and .org.
Some countries have already registered individual complaints, but the latest move represents collective concerns.
Objections raised by the panel - the Government Advisory Committee (Gac) - will not be binding on net address regulator Icann (Internet Corporation for Assigned Names and Numbers), but the organisation must produce "well reasoned arguments" if it decides to deny any request.
Public interest issues
Concerns raised by the Gac at this point will act as "early warnings", offering applicants a chance to address the concerns or withdraw their proposal and recover the bulk of their $185,000 (£116,300) registration fee.
If the matter is not resolved amicably, the Gac can lodge a formal complaint in April.
Bruce Tonkin, vice-chair of Icann's board, said the committee had already "telegraphed" some of the public interest issues it planned to put forward.
"They are looking for strings that have broad uses and where one entity is seeking exclusive use," he told the BBC.
"What that means is that they are worried about things like Google running .search, or Amazon running .book.
"They are also indicating [problems with] religious terms... there have been some applications for .islam, .bible and .church.
"The question is whether the people affected by the word .islam, for instance, broadly support the application or not - and that's always going to be hard because a local mosque may support you, but it's hard to say you have the backing of a global religion."
Mr Tonkin added that another issue might be cases where a word had two uses.
For instance, he said, the Patagonia clothing company had lodged an application for a suffix with its name - but that might be objected to on the grounds that it also refers to a large region of Argentina and Chile.
Resignation
The Gac's announcement - which could come as soon as this Tuesday - follows a period of tumult at Icann.
The organisation's chief strategy officer, Kurt Pritz, resigned last week citing a "recently identified conflict of interest".
Mr Pritz had been the face of the gTLD extension, explaining the next steps of the process at Icann's recent international meeting in Toronto.
He had also represented the organisation at US Senate hearings into the roll-out last year, playing down claims that the move might result in more fraud and cyber-squatting on the internet.
Icann has yet to detail what the conflict of interest involved - although Mr Tonkin signalled it was his personal view that it might have to do so soon.
"Let me just say there was nothing sinister about it," he said. "But the reality is that people are speculating and often in these situations it's better to give the actual detail, and then that's the end of it."