UK government threatens firms over hidden customer data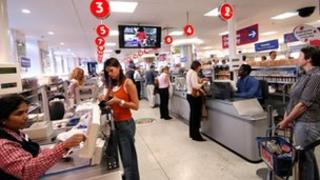 The UK government has repeated its threat to legislate if businesses do not voluntarily release data gathered on customers who ask to see it.
An initiative called Midata calls on firms to provide details to the public in a "machine-readable" format.
Ministers had warned in August they would introduce a new law if utilities, web firms and shops did not voluntarily comply with their request.
Consumer Affairs Minister Jo Swinson will provide more details on Monday.
Under the existing Data Protection Act consumers already have the power to make a "subject access request" to see the personal information companies and other organisations hold on them.
But doing this can incur a fee of up to £10 and not all data has to be handed over.
The government is hoping that the Midata scheme will make the process easier and help consumers make more informed decisions about issues such as which energy deal or mobile subscription would best match their habits.
"Many businesses reap huge commercial benefits from the information they gather from consumers' daily spending patterns", said Ms Swinson ahead of next week's announcement.
"Why shouldn't consumers also benefit from this by having access to their own data to enable them to make better choices?"
Security concerns
Consumer advocacy group Which? believes the information transparency encouraged by the Midata scheme could boost competition to the benefit of consumers.
Executive director Richard Lloyd said: "Giving consumers more power with their personal data will help them make better use of their money, and that's not only good for customer-friendly businesses, but good for growth in the economy."
But several details of the scheme still need to be fleshed out.
The government talks of third-party developers making apps that could access the data on consumers' behalf, but has not specified which formats companies need to provide the information in to ensure the software could make like-for-like comparisons.
Consumer Focus has also cautioned that collating data in this way could pose a security risk, telling the Financial Times it could open a new avenue for personal information to be leaked or become the subject of a hack attack.
The Department for Business, Innovation and Skills says 20 businesses in the energy, finance and telecoms sectors have already signed up to the voluntary scheme.
But it is holding out the threat of legislation should insufficient numbers of companies comply.
If secondary legislation is needed, the department suggested new powers could come into force by early 2014.