Salt Lake City police join rush to adopt headcams
By Katia Moskvitch
Technology reporter, BBC News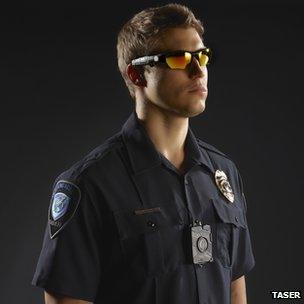 Video surveillance cameras that eye supermarkets, car parks and train stations are something many people are used to by now.
But one US police force is making the headlines for trying to take this a step further: clipping cameras on the side of all their officers' heads via glasses, helmets or hats.
They can record a crime scene or any interaction with the public, adding to the footage already produced by dashboard cameras in their cars.
On Wednesday a police chief in Salt Lake City, Utah, announced his intention to make wearable cameras mandatory at his police department.
But perhaps the development should not be such a surprise. In fact, wearable cameras have been used by officers for some time to document on-the-scene actions.
Supporters of the technology highlight the fact that they are made in such a way that officers cannot edit the footage, helping to ensure transparency.
However, there are concerns about privacy.
The Axon Flex devices the Utah chief talked about are made by US firm Taser, and are an upgrade of its earlier Axon Pro video system.
Currently, there are 274 US law enforcement agencies using one or both versions. Some have equipped many officers with the cameras, others are just testing a few units.
"All of our motor officers are using the most current camera on a daily basis," says Commander Scott Schubert from Pittsburgh Police Department.
"Unlike an in-car video that stays positioned in front of the car, the helmet or glasses-mounted cameras go wherever the officer goes and records what the officer observes.
"I think it's a great resource because it provides transparency and helps to ensure accountability, by the officers and the public, during police interaction.
"It also provides valuable information that can assist with the successful prosecution of crimes, protect officers from false complaints, and assist with addressing valid complaints involving police conduct."
The main difference between the most recent version and its predecessor is the fact that the new one can clip onto spectacles.
Another one is comfort, says Captain Eric Gieseke from Burnsville Police Department.
"We are using both versions, started using them in 2010, and officers can wear the first ones as a headband or clip to their hats using a magnetic piece - but the latest version can be clipped onto their eyeglasses," he tells the BBC.
"The cameras allow the officers to record the incidents they were involved with to essentially preserve the truth, and they give them a tool to support their actions, to demonstrate the many difficulties and challenges they encounter.
"It's also been a great tool documenting evidence on crime scenes, exactly as it is when we get there."
Just like any other data acquired by police, members of the public can usually get access to the footage, if necessary, he adds.
Taser says law enforcement agencies are also testing its equipment in Australia and New Zealand.
UK forces are also testing similar technology.
The Metropolitan Police has also been trialling the equipment in Sutton is south-west London.
It says that in one incident the technology was used to convince a woman that her friend had not been pushed and shoved by officers by showing her the footage.
The Association of Chief Police Officers (Acpo) could not immediately say how many were being deployed across the country.
But Nick Pickles, director of the Big Brother Watch campaign group, has heard enough to be concerned.
"We're already seeing traffic wardens, bailiffs and council officials using them in Britain and it's a sad indictment of authorities who see every member of the public as a suspect," he says.
"What is the problem they are trying to solve? Are lots of police officers being assaulted and people getting off because there's no CCTV? Of course not," he says.
"This is a one-sided tool. How would police officers react if members of the public routinely filmed them?"
Related Internet Links
The BBC is not responsible for the content of external sites.