Spotify music streaming service nets Coca-Cola cash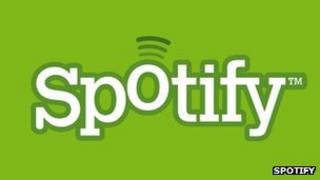 Spotify, the Swedish music streaming service, has attracted fresh investment from Coca-Cola, Goldman Sachs and Fidelity.
The $100m (£63m) of new money gives Spotify a valuation of about $3bn.
But the private, loss-making company is facing increased competition from rival music streaming companies, such as French company Deezer, which raised $130m in new funding last month.
Microsoft and Apple have also said they will be entering the market.
Spotify, which launched in the US in 2011, charges a monthly fee for unlimited access to its digital library of 18 million songs, and limited access for free, supported by advertising.
Rivals, such as Rhapsody, Rdio and Deezer, do not offer any free listening beyond trial periods.
Spotify now has more than 15 million active users and about four million paying subscribers, but still lost 45.4m euros (£37m) in 2011, 59% more than in 2010, despite a doubling of revenues.
The recent funding round also raised less than the $200m Spotify was originally hoping for, indicating a more cautious approach from investors following the Facebook flotation debacle and worries about growing competition in the sector.
For example, Microsoft is offering ad-supported free streaming via its Xbox Music service, but only for computers and smartphones running its Windows 8 and Windows RT operating systems.
Users of the Xbox 360 video game console will also get access.
Spotify is beta-testing a browser-based version of its music streaming service, allowing users to play music without having to download an app.
The company hopes this will increase the accessibility of the service and widen its appeal.
But music streaming providers face growing opposition from artists disgruntled at the low royalties they receive.
Pandora Media, the leading internet radio brand measured by listener hours, which pays about half its annual revenues in royalties to artists, has been lobbying the US Congress to pass the Internet Radio Fairness Act, which could see royalties cut by up to 85%.
The move prompted 125 artists, including Bryan Adams, Billy Joel and Ne-Yo, to write an open letter in protest, branding Pandora's proposal "not fair".
Artists' songs often need millions of plays before they make any significant royalty money.
In a feature for music site Pitchfork , Damon Krukowski, of US band Galaxie 500, revealed how 5,960 plays of their song Tugboat over three months on Spotify netted the three songwriters just 35 cents each.
Pandora paid them even less.