Spike in government surveillance of Google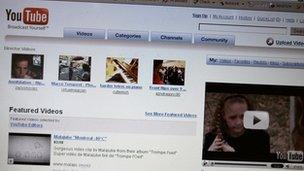 Governments around the world made nearly 21,000 requests for access to Google data in the first six months of this year, according to the search engine.
The US government made the most demands, asking for details 7,969 times in the first six months of 2012.
Turkey topped the list for requests to remove content.
Google, in common with other technology and communication companies, regularly receives requests from government agencies and courts around the world to have access to content.
It has been publishing its Transparency Report twice a year since 2009 and has seen a steady rise in government demands for data. In its first report in 2009, it received 12,539 requests. The latest figure stands at 20,939.
"This is the sixth time we've released this data, and one trend has become clear: government surveillance is on the rise," Google said in a blog post.
The report acts as a bellwether for government behaviour around the world, a Google spokeswoman told the BBC.
"It reflects laws on the ground. For example in Turkey there are specific laws about defaming public figures whereas in Germany we get requests to remove neo-Nazi content," she said.
"And in Brazil we get a lot of requests to remove content during elections because there is a law banning parodies of candidates.
"We hope that the report will shed light on how governments interact with online services and how laws are reflected in online behaviour," she added.
The US has consistently topped the charts for data requests. France, Germany, Italy, Spain and the UK are also in the top 10.
In France and Germany it complied with fewer than half of all requests. In the UK it complied with 64% of requests and 90% of requests from the US.
Google said the top three reasons cited by government for content removal were defamation, privacy and security.
Worldwide authorities made 1,789 requests for Google to remove content, up from 1,048 requests for the last six months of 2011.
In the period from January to June, Turkey made 501 requests for content removal.
These included 148 requests related to Mustafa Kemal Ataturk - the first president of Turkey, the current government, national identity and values.
Others included claims of pornography, hate speech and copyright.
Google has its own criteria for whether it will remove content - the request must be specific, relate to a specific web address and have come from a relevant authority.
In one example from the UK, Google received a request from police to remove 14 search results that linked to sites allegedly criticising the police and claiming individuals were involved in obscuring crimes. It did not remove the content.