Tablet computer added to Queen's Royal Collection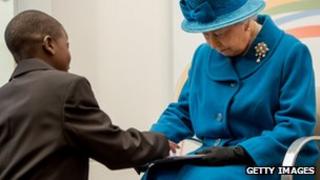 The Queen will add the first tablet computer to the Royal Collection when she is presented with a "digital time-capsule" later.
The touchscreen device will provide access to videos, photographs and text submitted by participants who have recounted memories from the past 60 years of Queen Elizabeth II's reign.
150 gigabytes of data was collected.
That is more than can be stored on Samsung's Galaxy Note 10.1, so it has been limited to 60 selected entries.
These were picked by a panel of judges including the director general of The Royal Photographic Society and the Royal Librarian.
Organisers have pledged that the complete library of 80,000 entries will remain available online to all "in perpetuity". It has been called the Diamond (re)Collection.
Wedding and riots
More than 37,000 people from 66 countries took part in the project, including Olympic "blade runner" athlete Oscar Pistorius and Prince Harry, as well as less famous people.
Volunteers were able to submit their memories via a website and app.
The most popular occasion turned out to be 2011's Royal Wedding of Prince William and Kate Middleton which was described by more than 200 people.
Picks uploaded to the tablet computer include:
"The digital nature of the project required a digital device to present to Her Majesty, and The Queen will be able to press 'play' on the tablet before watching a video of some of the best Jubilee time-capsule entries," said Danny Sriskandarajah, director of the Royal Commonwealth Society charity.
The organisation said it had at one point considered using an Apple iPad, but ultimately opted for Samung's tablet after discussing the project with both firms.
The device will be stored at Windsor Castle as part of the Royal Collection.
It already includes other digital products - such as PCs and DVDs - as well as art, furniture and other memorabilia spread across 13 residences. It is held in trust by the Sovereign for her successors and the nation.