Call of Duty: Black Ops 2 and Halo 4 set to boost game sales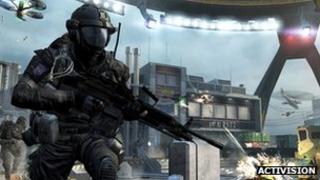 The release of Activision's latest Call of Duty will be closely watched for its effect on lagging video games sales.
Black Ops 2 is the sequel to a 2010 title which holds the record for the world's bestselling console game.
Microsoft has already revealed its rival first-person shooter, Halo 4, made more than $220m (£138m) in global sales on its launch day last week.
Game disk sales in the US were 25% down on the year in October, according to a study by NPD.
It reported that sales had fallen to $756m in what is the sector's biggest market, noting that several other new sequels had not performed as well as previous iterations.
Hack attacks
The latest CoD game marks a change for the series, basing part of its action in the future.
The scenario - in which hackers take control of part of the US's drone aircraft army - was dreamt up in conjunction with the Washington-based Brookings Institution think tank in an effort to prevent gamers feeling the series had become overfamiliar.
Its multiplayer mode also puts new emphasis on e-sports in which players are ranked into leagues, and one user can act as a commentator for other spectators.
The innovation is part of efforts to convince consumers to hold onto their disks rather than selling them onto the second-hand market from which publishers do not take a cut of sales.
"We have to give a reason to keep the game," Activision's UK managing director Peter Hepworth, told the BBC.
"There's the multiplayer options to keep people engaged - but even in the single player mode this year there are branching storylines, so your decisions change the ending.
"We think we are giving several reasons to keep playing."
The firm said 16,000 retailers have staged midnight openings around the world to help drum up excitement for the release.
Battle for cash
The series' last entry, Modern Warfare 3 was a bestseller, but did not perform as well as the original Black Ops title - and sales statistics will now be monitored to see if that trend continues.
"Activision has already said that pre-orders for this title were stronger than for its previous releases which is a good sign," said Ed Barton, director of digital media at Strategy Analytics.
"And there are more consoles out there than ever before which should also help. However, the Call of Duty experience has not evolved hugely from its formula, so there may be a sense of audience fatigue - but by the looks of things the positive factors will probably outweigh the negative ones."
Activision's decision to release the game as a launch title for Nintendo's Wii U console - which is due to be released in the US next week - may also boost its fortunes.
But Black Ops 2 faces competition for both cash and gamers' time from other big name action titles.
Microsoft has described last week's release of Halo 4 as the "biggest US entertainment launch of the year", highlighting that the franchise had already generated more than $3.38bn in revenue since 2001. The title has had strong reviews, but is only available on the Xbox.
Ubisoft's Assassin's Creed 3, set in the US's War of Independence, has also attracted positive reviews. The firm estimated that 3.5 million copies of the title had been sold in its first week of release - more than double the figure for its previous title.
Capcom's Resident Evil 6; 2K Games' Borderlands 2; EA's Medal of Honor: Warfighter; and Bethesda's Dishonored have also been released in recent weeks.