Kroes reveals Azerbaijan hack attack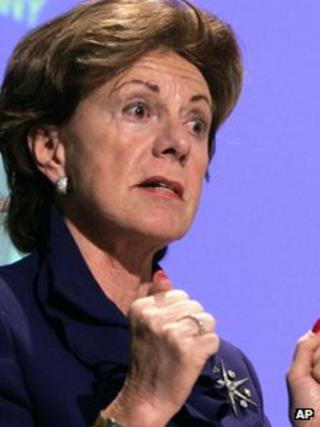 Laptops belonging to European Commission officials were hacked when taken to a government conference in Azerbaijan, says an official.
The attack was revealed by European Commissioner Neelie Kroes in a blogpost after attending an Internet Governance Forum (IGF) meeting in Baku.
Security warnings from Apple revealed that the laptops had come under attack.
Azerbaijan disputed the attack details but said it would investigate any official complaint.
In the blogpost Ms Kroes said she was ambivalent about attending the IGF meeting in Baku because of the country's poor record on human rights.
She was persuaded to attend, she said, because the IGF can be a catalyst for change and because of a pledge from the Azerbaijan president that would meet political prisoners.
The IGF is a UN-backed discussion group that stages conferences to debate the future of internet policies, practices and technologies.
'Spy attack'
Despite the assurances Ms Kroes did not get to meet any prisoners, she wrote. In addition, she said: "Activists were harassed at the internet conference. My advisers had their computers hacked.
"So much for openness," she said.
The hack attacks on laptops owned by two members of Ms Kroes' staff took place when the laptops were in a hotel in Baku, said spokesman Ryan Heath.
Security messages from Apple revealed that "third parties" had accessed the machines, he said.
"I'm presuming it was some kind of surveillance," Mr Heath told AP. "What we're going to do is to get the computers forensically analysed to see what if anything was taken out of them."
Mr Heath declined to speculate on who was behind the attacks.
A spokesman for the Azerbaijani 's president's office said local law enforcement and the managers of the hotel where Ms Kroes and her staff stayed had been told to "address the issue".
So far, the spokesman told Azerbaijan's Trend newspaper, no facts or evidence about the attacks had been passed to authorities.
"If Kroes and her assistant really believe that there was interference in their computers, then please let them turn to the Azerbaijani Prosecutor General's Office," he said. "A criminal case will be filed and investigation will be launched based on this appeal."
The spokesman denied there had been any interference with the laptops and said Ms Kroes' claims were made to undermine the image of the country.