Windows boss shown the door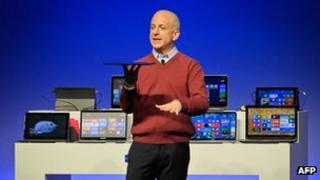 The technology world is abuzz today with news of the abrupt departure of a key executive at Microsoft. Steve Sinofsky is probably the second most important figure at the company after the chief executive Steve Ballmer. Now he is leaving with immediate effect.
His exit, just weeks after the launch of Windows 8, raises questions about the future direction of the business, not least because he was seen as a credible successor to Ballmer. A 23 year veteran of the company, he was a familiar figure to anyone who attended a Microsoft launch, a polished performer explaining just why we should be excited about the latest innovations in the Windows operating system.
The Windows 8 launch has been seen by the company as a great success, moving Microsoft into the new touchscreen mobile era, with Steve Ballmer celebrating the sales of four million copies in just three days. True, there have been some complaints from those who see the new operating system as an uneasy mix of the new mobile world and the old desktop environment, but Microsoft seems confident that all is going to plan.
So why has the man who has been central to the launch gone? Microsoft's statement revealing the news has done nothing to dampen the rumours of a bust-up at the top. Although it features a quote from Steve Ballmer expressing gratitude for Sinofsky's years of work and another from the man himself talking of the professionalism and generosity of everyone at "this awesome company", there is no explanation of why he is leaving.
That quote from the Windows president is also in an email he has written to Microsoft staff in which he says he is leaving to pursue new opportunities. He says that this is an ideal moment for him to move on, having launched Windows 8, and is keen to dispel any conspiracy theories: "This was a personal and private choice that in no way reflects any speculation or theories one might read - about me, opportunity, the company or its leadership."
So if it is as simple as that he wants to go off and do something else, why did Microsoft not make that clear in its press release? I put that to the company and got no real response.
Then I looked at a CNET profile of Steven Sinofsky. The article, which appears well sourced, talks of a brilliant but divisive figure, feuding with fellow executives and creating "a toxic work environment that has chased talented employees away from a maturing company that's in desperate need of innovative thinking."
So perhaps Steve Ballmer was rather relieved when Mr Sinofsky talked of seeking out new opportunities. In any case, it is inevitable that there will be speculation because Mr Sinofsky's departure comes at a time of upheaval in some other big technology firms.
The most obvious example is Apple, which last month got rid of Scott Forstall, boss of its iOS software division, and John Browett, who very briefly ran the retail operation. Both were apparently axed because of serious failings - notably in Forstall's case the disastrous Apple Maps launch which resulted in the millions who upgraded to iOS 6 getting a much worse product than they'd had before.
What all of these giant companies are trying to do is foster a continued spirit of innovation and risk-taking in a fast-moving environment where any mistake can leave a business floundering to catch up. When I interviewed Steve Ballmer last month, my repeated suggestions that Microsoft had struggled to innovate in recent years were met with some impatience.
But it seems likely that he decided that the completion of Windows 8 was a good time to review how the company was working. Now another company veteran, Julie Larson-Green, has been given the task of heading up Microsoft's most important division, running all of Windows software and hardware engineering.
In my experience, Microsoft still employs some of the brightest and most capable people in the technology industry. But combining their efforts to produce a fast moving business turning out innovative products remains a challenge.