In search of simple phones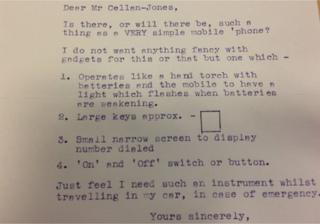 When a letter landed on my desk addressed to the BBC Technical Correspondent, I opened it with care. In the past, a typewritten envelope has sometimes proved to contain something extremely unpleasant - but this time the opposite was true.
Inside, I found an extremely courteous and interesting request for information and a stamped addressed envelope for my reply. My correspondent, a lady from Leicester, wanted to know whether there were simple phones on the market that did little more than just make calls. She went so far as to lay out in some detail exactly what she was seeking, right down to a diagram of the size of the keys.
Now I have been asked the very same question by relatives and have made some suggestions, but I wanted to seek out more information before I replied. So I consulted a modern communications method, Twitter. There were plenty of useful ideas - and then someone asked me whether I would blog about what I'd found out.
So here are a few suggestions of what is out there for anyone who does not need their phone to be too smart. I should of course stress that neither I nor the BBC is endorsing any of these products - just giving you a glimpse of a market that we should perhaps cover more frequently.
Doro is a company that specialises in big button phones and other products aimed at elderly people. They seem to range from some slightly more sophisticated handsets with cameras to phones with just four buttons programmed to call family or summon help.
Emporia is a company I've come across at various mobile phone trade shows promoting its easy-to-use handsets. Its phones are better looking than many in this sector - but you do pay extra for that.
A company called Mymemory is also selling an extremely basic big button phone. You'll need a simcard to go in it - and the advert pointedly says it does not do 3G. But then the mobile web is not high on the agenda of anyone looking for this kind of phone.
And similarly, the TTfone Basic Big Button comes sim free and without the capacity to roam the mobile internet.
Neither the major manufacturers nor the big mobile networks spend much time on marketing simple phones that do little - that's not where the money is. But this basic Nokia on sale via Vodafone was recommended by one tweeter. It is also a sad reminder of just how good and durable Nokia phones used to be - and probably still are.
The charity Age UK is launching a mobile phone service, My Phone. It comes printed with the names of up to eight people the user chooses - just press the name and the call is made. You pay £55 for the handset, and then choose a tariff for calls.
The Spare One is one of a number of pared down devices really just meant for emergencies. They can be put in a glove compartment and forgotten, as they are powered by AA batteries which last for years. This may be the closest thing to what my correspondent was seeking - she wanted it powered by the kind of batteries you get in a torch. But it does not look suitable for everyday use.
So that is just a few ideas which I hope will prove useful to Mrs S in Leicester and to others in search of simplicity when it comes to mobile phones. Feel free to add more suggestions at the bottom of this blog.