League of Legends rewards well-behaved players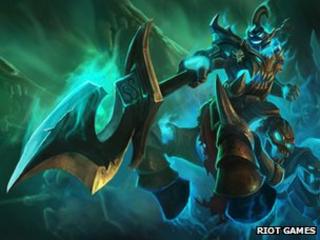 A system that rewards good behaviour is helping make online game League of Legends (LoL) more pleasant to play.
The hugely popular battle game is known for its toxic chat channels and the abuse players heap upon each other.
To curb the worst excesses, LoL maker Riot Games asked social scientists and statisticians to design an in-game system that rewards fair play.
Early reports suggest the system has worked, leading to less bad behaviour and fewer insults being thrown.
League of Legends revolves around small teams of players battling to destroy strategic points on a game map. In October, market data suggested that more than 12 million people were playing it every day.
Called Honor, the LoL reward system gives players points they can use to reward those they have just played against if they exhibit any one of four traits: friendly, helpful, using teamwork or being an honourable opponent.
Soon after the Honor system was brought in statistics suggest it has been effective. In the first month it was active Riot saw a 35% drop in offensive language used in normal-rated games and a drop of 41% in verbal abuse in the same types of games.
Rewards scrutinised
Similar systems exist in other games but Jeffrey Lin, one of Riot's game developers, said the experts it had used to build the Honor system had designed it so players could not rig it in their favour. Friends who only played and rewarded each other would be found out, he said, and it would also spot players who exhibited "toxic" behaviour but were getting good votes from their friends.
Limits on the number of Honor points that can be given out helped with this, he said, as did the mechanics of the system which gave much more weight to Honor points given by strangers than those awarded by friends.
Writing about the Honor system on girl geek blog The Mary Sue, Becky Chambers said many players were happy that Honor had curbed abusive behaviour in LoL.
Some regular LoL players said they were "astonished" that the Honor system was working even though it gave no tangible rewards to those that played fair.
Ms Chambers said the system was perhaps working well because of the effect it had on the mass of players who were neither good nor bad.
"This approach addresses a trend I've seen throughout public multiplayer games," she wrote. "I have often had the impression that a lot of bad behaviour online — both in-game and otherwise — is based in social mimicry."
Giving people a good example encouraged neutral players to do likewise, she said. By contrast before now the only example of how to behave on LoL has been "the loudest, most dominant players are acting like jackasses without consequence".