Africa gathers in Lagos for Maker Faire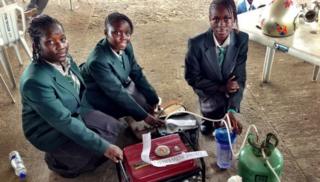 People from the tiniest African villages to some of its largest cities have converged on Lagos, Nigeria, this week to talk about making stuff.
The Maker movement - which encompasses traditional handicrafts through to cutting-edge robotics, is growing exponentially around the world with spin-off Maker Faires popping up all over the globe.
Maker Faire Africa is now independent and this year's promises to be the biggest and best yet.
"Our inventions have largely stayed hidden in the 'punk of the bush' and the outer reaches of the informal sector until now," reads the introduction on its website.
The falling price and availability of off-the-shelf electronics have put low-cost tech innovations centre stage at such events but it is in Africa where many people see home-made inventions having a real impact on people's lives.
"While western fairs are creative they are aimed at hobbyists, whereas in Africa it is more about practical need," said Erik Hersman, the man behind the global phenomenon of crowdsourcing crisis-mapping platform Ushahidi. "The future of Africa is in innovative engineering."
He is also one of the founders and organisers of the Maker Faire Africa, describing it affectionately as "loosely controlled chaos".
He talked the BBC through some of his favourite things on show in Lagos.
FARMING TOOL
Many of Africa's greatest innovators are those who see a need for a particular machine and set about making one, often ploughing years of their lives into perfecting them.
Pairing engineering know-how with the needs of farming is a powerful combination in Africa and no-one exemplifies this better than 65-year-old engineer Sulaiman Famro who went to the US to complete his graduate education in the 1970s and then returned to Nigeria.
There he has created the Farmking - basically a portable processing plant for root crops and grains.
He spent his own money and time on perfecting it and the first prototype was completed three years ago.
It has a diesel-powered engine that allows for remote processing, with power connections for lighting so that it can work all night, if needed.
It can process core crops such as cassava, soya beans, maize, sweet potatoes, yam and many other roots and grains. One of the more interesting uses for it is the capture of starch. The traditional method of processing cassava allows starch to seep into the ground, which is, says Mr Famro, very wasteful.
He claims he can save the country $1bn a year, just in savings on starch importation and is currently lobbying governors of different Nigerian states to get the Farmking into their areas.
HYDRAULIC TOYS
15-year-old Odo Gerald has been wowing audiences at this year's fair. His biggest fans are small boys, fascinated by the moving toys he has made entirely out of scrap materials.
Odo has made four toys over the last four months, including a dump truck, excavator and a helicopter. Using painted plywood, syringes, wire, water and small tubes along with a motorcycle battery to run it all, the miniature machinery packs some cunning hydraulic action.
The toys started off as a school project but quickly outgrew what his teachers expected. His next big project is to make a small helicopter that he can get off the ground.
This year the fair is specifically reaching out to the youth audience with two tents on site aimed at giving children the chance to play and create. On hand is robotic Lego and electronic kits such as Littlebits, a kit of circuits that snap together with magnets and allow users to incorporate light, sound and movement.
For older children there are Arduino microprocessors and a 3D printer to play around with.
TUK-TUK LIMO
Much of the Maker Faire Africa is about mashing up things that already exist to create something new, better and more usable.
Ibrahim Adekunle and Shola Omoniyi have been attracting a crowd with their new take on a stretch limo.
The Tricycle Limo can hold up to 12 people, plus driver while a smaller Tricycle Jeep can hold five people, plus driver. Both vehicles cost between 100,000-200,000 naira ($600-$1,200; £375-£750) to rent for the day, and are often on call for weddings, carnivals and other events.
The Tricycle Limo cost about 1.5m naira ($9,500; £5,900) to make, and about two weeks to put together. As it is long - about 5m (16ft) - the chassis is strengthened using a long piece of pipe.
The jeep version uses a tuk-tuk chassis (a motorised rickshaw) and a two-cylinder engine from a vehicle. The front grill can hold 100kg (220lb) of weight, meaning it can be used for carrying bags of rice, jerry cans of water, or for mounting speakers on at events.
The invention is simple but for Mr Hersman, it represents how youngsters can use their own making skills to become entrepreneurs.
"For a lot of young men it is hard to find a job and these two are doing this both for fun and to make it into a business," he said.
RECYCLING BIKE
Modified bicycles have been making the rounds of Lagos cleaning up and recycling five tonnes of rubbish since August.
Wecyclers.com is the brainchild of Billikiss Abiola, from Nigeria and Jonathan Kola, from Kenya who together came up with the simple plan to get people in Lagos to recycle aluminium and plastic.
The bicycles are welded to a trailer, making a tricycle that can carry large bags of sorted waste. Each bike costs approximately $500 (£300) to build, though those prices will come down as they start making more.
The project has gained the attention of the Lagos Waste Management Authority.
While the basic idea is low-cost, behind it lies in a database which records all the waste people have recycled and scores them based on the amount and type of recycled stuff.
Those involved in the scheme are sent a text to let them know how they are doing and every three months there is an event where people can redeem their points for real goods. The people with the most points also get prizes.
The two founders have also tied up with large firms, such as Coca-Cola, which sponsors the prizes and pays for the costs of the event, giving out items like raincoats, backpacks, pens, notebooks and water bottles.