Acer delays Windows RT tablets over Surface concerns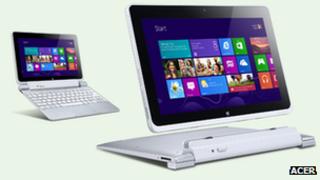 Taiwanese computer maker Acer has put back the launch of its Windows RT tablets following mixed reviews for Microsoft's own Surface device which is powered by the new operating system.
Acer said it was now unlikely to distribute the product before April.
Windows RT appears similar to the full Windows 8 system and is designed to run on ARM-based processors.
However, it lacks some of the functionality of its sibling, resulting in a paucity of compatible software.
Unlike Windows 8, Microsoft only allows Windows RT to install third-party software from its own online store, and the apps can only run via the system's touch interface and not in the traditional desktop mode.
However, in return for this trade-off Windows RT computers are likely to offer longer battery life and cheaper prices.
Acer is the world's fourth biggest PC maker based on the number of computers shipped.
Less aggressive
Microsoft decided to launch its own Windows RT-powered Surface tablet to help promote the new software. Early reviews of the machine praised the hardware but noted there were far fewer apps available for it than for Windows 8 PCs powered by x86-based chips, or on other rival tablet or PC systems.
In addition several writers complained about glitches in the software that was available, and there were claims that it stuttered when playing some high-definition 1080p video.
Updates and new releases may solve these issues over time, but they appear to have given Acer cause for concern.
"Originally we had a very aggressive plan to come out very early next year, but because of Surface, our R&D development doesn't stop, but we are much more cautious," Acer's president Jim Wong told Reuters.
"Originally our plan was Q1 [January to March], but now I don't think it will be earlier than Q2 [April to June]."
Mr Wong indicated his concerns were also linked to the price of Surface.
Microsoft is charging £399 for its entry-level device with 32 gigabytes of storage, which does not include a keyboard cover.
That is the same price as an iPad featuring half the amount of storage, albeit with less space taken up by Apple's operating system.
Mr Wong noted that other firms, including Lenovo and Asus, had detailed plans for more expensive Windows RT tablets before Microsoft's Surface announcement caught them by surprise.
Acer also told reporters that it believed Windows 8 would only boost its fourth-quarter sales by 5%-to-10% because the software had been launched so late in the year.
It is not the first time that Acer has appeared critical of Microsoft's tactics. In August Acer's chief executive told the Financial Times that the release of Surface would have "a huge negative impact for the [Windows] ecosystem and other brands".
Gartner - a tech consultancy - said the fact Windows RT offered Microsoft's Office software suite, would act in its favour, but might not be enough to compensate for other "missing" software.
"With regards to RT we have also been a bit sceptical about the initial uptake because the app ecosystem is still weak compared to Apple's iOS and Google's Android," analyst Roberta Cozza told the BBC.
"That limits what you can do with it as regards to entertainment apps, which is an issue bearing in mind Microsoft is pushing Surface as a consumer device."
Coupon compensation
For the time being a more pressing issue for Microsoft appears to be coping with the existing demand for the tablet.
Its website now says it will take up to three weeks for any model of Surface to be delivered. It is also offering compensation of differing amounts to UK and Canada-based customers who had pre-ordered the tablet before its 26 October launch expecting to receive it on Friday, only to be disappointed.
"We apologise for any confusion caused by emails stating an earlier or later arrival date," the firm said in a statement.
"To make up for this inconvenience, we are giving impacted customers a single-use coupon for up to £50 (or $50 Canadian dollars) toward their next purchase from the Microsoft Online Store."
Despite the setback Microsoft's chief executive, Steve Ballmer appeared satisfied with the various Windows 8 launches when he appeared at a developers conference in Redmond, Washington, on Tuesday.
"In just the last three days, we have sold four million Windows 8 upgrades," he said. "The level of embrace from enthusiasts is very, very high."